Summer is the ideal time for a city tour to Munich, because the Bavarian capital not only exudes Italian flair, but also offers numerous beer gardens, parks and sunbathing spots, as well as water activities. There is always something to discover in Munich. These are our tips for this summer!
Munich in summer: Tips at a glance
- Munich attractions
- Italian flair
- Summer drinks, meals to go, beer garden visits
- Outdoor shopping
- Boutique shopping spree
- Fun in the sun at Olympiapark (Olympic park) or the English Garden
- Schloss Nymphenburg (Nymphenburg palace)
- Cycling tours
- Excursion destinations in and around Munich
- Events in summer
Munich attractions
Guided tour through the old town: Explore Munich's city centre on foot when the weather is nice and make sure you don't miss the Neues Rathaus (New Town Hall), Marienplatz (main square) with the famous Glockenspiel (carillon), Viktualienmarkt (market) or the Frauenkirche (cathedral).
Residenz (city palace): If you're looking for a cool spot in hot weather, plan a visit to the largest inner-city castle in Germany.
Ludwigstrasse: If you want to take an even closer look at the city, you can stroll from the city centre along Ludwigstrasse to Siegestor (gate) all the way to Maxvorstadt district.
The best places to enjoy a sunrise are the Olympiaberg (Olympic hill), the Bavaria (statue) or the Monopteros in the English Garden.
If you want to be the first to enjoy the morning view over the city, you should climb up Olympiaturm (Olympic Tower) or the tower of Alter Peter (church) from 9 am.
Summer is full of opportunities, even if the weather isn't so nice. Then you could take a tour of the Kunstareal (art quarter), for example. Around 18 museums and exhibition houses are located in Maxvorstadt - including Lenbachhaus (art gallery), the Pinakothek museums and Museum Brandhorst (art gallery). If you have time for several stops, you can stroll leisurely from one museum to the next.
You can find more tips for Munich on rainy days in our guide Top tips for bad weather. Of course, you can also go to the museum when the weather is fine – especially Haus der Kunst (art gallery), where you can sit down with a drink on the terrace of the Golden Bar afterwards and watch the sunset.
Italian flair
As soon as it's warm in summer, people like to escape to the water – and Munich's old town is rarely as beautiful as it is on really hot days. In the shade of the awnings of the Viktualienmarkt (food market) and among the small sun tables in front of Bar Centrale, Munich feels very much like Italy.
Odeonsplatz (square): Theatinerkirche (church) was the first late Baroque church north of the Alps, while the architecture of the Feldherrnhalle (Field Marshal's Hall) is modelled on the famous Loggia dei Lanzi in Florence. It's worth taking a stroll through the baroque Hofgarten (Court Garden) afterwards.
Max-Joseph-Platz (square): Designed by architect Leo von Klenze on the model of the famous Capitol Square in Rome with beautiful seating along the Residenz (city palace) or on the steps of Nationaltheater. The ideal setting for Italian ice cream!
Summer drinks, meals to go, visits to the beer gardens
A refreshing drink on a sun terrace is as much part of summer as sunglasses and a bicycle. You can spend a long time sitting in the sun on the terrace of the Goldene Bar in the Haus der Kunst (art gallery). Those seeking peace and tranquillity can enjoy drinks, snacks and the plants in the hidden rooftop garden at Karlsplatz-Stachus (square). If you want to go even higher, make a reservation on one of the beautiful roof terraces – like those of Hotel Bayerischer Hof or Hotel Deutsche Eiche. By the way: in Munich, the aperitif culture is celebrated just as extensively as in Italy – that's why in summer spritz is served on every corner!
There is so much to discover in Munich in summer that there is not always time to sit in restaurants for hours. Especially at lunchtime, a snack or a meal from the food truck will do when it's hot. From fish rolls at the market on Wiener Platz (square) to Bavarian fast food from Bazis Schlemmerkucherl or Georgian-Greek delicacies at Royal Healthy Slices on Hohenzollernplatz (square). There are also numerous food stalls in the old town offering everything from take-away pork-roast rolls to veggie sandwiches. We joined food blogger Fernando Gonzales from the Instagram account @aufdiefaust through Landwehrstrasse.
As soon as the beer gardens open and the first rays of sunshine appear, people in Munich sit together with a leisurely shandy and garnished cream cheese, called obatzen. The beer-garden season usually stretches from March to October, but it's at its best on really warm summer evenings, when you don't need a jacket and could sit there forever. As soon as you return your empty beer mug and collect your deposit under fairy lights and chestnut trees, you realise when cycling home: There won't be much more summer than this!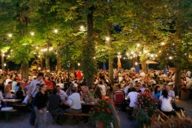 Of course, there are flea markets in Munich all year round – for example the flea market at Trabrennbahn München-Daglfing (harness racing track) or the flea market in Riem. If you prefer to go out at night, you can dawdle at the midnight bazaar with food trucks and live music or at the night flea market. Another special and typical summer event are the courtyard flea markets, which are spread all over the city. From Sendling to Schwabing, each neighbourhood takes turns hosting the flea market, and visitors can not only discover beautiful backyards and special streets, but maybe also the one or other treasure.
Boutique spree
A sunny summer day is the perfect setting to discover the little boutiques in your own neighbourhood. Like the Munich label WE.RE – where two designers style and sew in their own studio in Glockenbachviertel district. A few streets further, shop owner Stephanie Zürn sells first and second-hand fashion in a chic ambience. A Kind of Guise in Maxvorstadt district offers high-quality men's and women's fashion made in Germany. And in the HIER Store in Haidhausen district, Stephanie Kahnau sells not only her own fashion, but also many other great items from Munich labels. You can find more addresses of independent shops on the app Findeling, for example.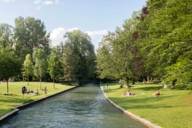 Fun in the sun
Summertime means not only eating ice cream and reading, but also lazing around – and all you need is a good picnic blanket and, of course, the right meadow. Luckily, there are many parks and gardens in Munich. If you are out and about in the old town, you will find peace and quiet in the Maximiliansanlagen (public gardens).
Olympiapark (Olympic Park)
Explore the park, the Olympic village with its unique architecture and the Olympiastadion (Olympic Stadium). At Olympiasee (lake), you can rent a pedal boat or just take a blanket and lie on the grass. Enjoy the magnificent view from Olympiaturm (Olympic Tower), or Olympiaberg (Olympic hill) with the Olympiaalm, a friendly beer garden.
Englischer Garten (English Garden)
With its 375 hectares, the Englischer Garten is the largest park in the world. Here, too, it is advisable to travel by bike; you can find an exciting route in our Bike Tour English Garden: It leads you from Marienplatz (main square) past the beer garden at Chinesischer Turm (Chinese Tower) and Eisbachwelle (river wave).
If you want to explore the north of the park, you can take a break at the Aumeister or the Seehaus beer garden and order a cold beer or a shandy. But the park is also great to explore on foot. If you need a snack break, visit the Milchhäusl or Fräulein Grüneis kiosk.
On very hot days, you can float on the Eisbach from the Englischer Garten to Tivoli Bridge and take the tram back to your bathing-towel spot.
Eisbachwelle: One of the few surfable river waves in the world is located in the Ennglischer Garten next to the Haus der Kunst (art gallery) – it is now one of Munich's top sights. From the bridge, you can watch the surfing pros all year round.
However, if you want to learn to surf yourself, it's better to start at the E2, the smaller Eisbachwelle (river wave) a little further back in the Englischer Garten, or at the wave at the Floßlände (pier) in Thalkirchen – incidentally, this is also where river surfing developed in the 1970s! Our author had a try, her conclusion: Surfing on the river is at least a bit more beginner-friendly than on the sea, because you can stand up on the board right away!
Schloss Nymphenburg (Nymphenburg Palace)
Schloss Nymphenburg (Nymphenburg Palace): The summer residence of the Wittelsbach dynasty in the west of Munich has a magnificent park. Stroll along the "park castles" Amalienburg, Pagodenburg and Badenburg, the Marstallmuseum (Museum of Carriages and Sleighs) and Porzellan Manufaktur Nymphenburg (Nymphenburg Porcelain Manufactory). In total, the park with its canal cover around 229 hectares. Afterwards, stop off at Hirschgarten, Bavaria's largest beer garden, which is only a 15-minute walk away.
Our author got up early to embark on a safari through Nymphenburg Palace park – with a bit of luck, you can spot deer, beavers, kingfishers and tawny owls here.
Cycling tours
Munich is an absolute cycling city: Not only is everything important in the city centre within easy reach for cyclists, but many excursion destinations in the surrounding area can also be conveniently visited by bike.
Explore Munich on two wheels: You can find all information about bicycle rental here. If you cycle south along the Isar river, you will pass Tierpark Hellabrunn (zoo), the Flaucher (section of the Isar river), the Großhesseloherbrücke (bridge) and can finally cycle all the way to Pullach.
And if you prefer to stay in the city, we recommend one of our 'Radl-Genuss' pleasure bike tours – along the Isar river, through the English Garden, to Munich's highlights or a 20-kilometre general overview tour.
Another interesting tour: To mark the 50th anniversary of the 1972 Summer Olympics, our author has cycled to all venues – details on the Olympic tour are available here!
If you enjoy longer cycling tours, you can ride all the way to Starnberger See (lake). There are unlimited swimming opportunities along the Isar (river), and there are also several beer gardens en route – such as the Waldwirtschaft, Gasthaus zur Mühle or the Bruckenfischer.
Excursion destinations in and around Munich
In summer, Munich is not only exceptionally green, but also pretty blue: Bathing lakes and outdoor pools glisten everywhere, the Isar river stretches right across the city like a giant swimming pool. The bathing spots between Reichenbach bridge and the Flaucher river stretch are particularly popular and always well frequented.
A small canal of the Isar river flows through Naturbad Maria Einsiedel (ecological outdoor swimming pool), idyllically nestled in Thalkirchen in the southern part of Munich.
Ever popular are the pools of Schyrenbad, Prinzregentenbad and Ungererbad.
For those who prefer natural surroundings, there are many swimming lakes in the Munich city area – like the Langwieder Seenplatte, Riemer See or Dreiseenplatte with Feldmochinger, Lerchenauer and Fasaneriesee.
The nearest bathing lakes, such as the Feringasee or the Poschinger Weiher are also easy to reach by bike.
Westpark: In the centre, yet quiet. Here you can explore exotic-looking buildings such as the Thai sala or stop for a snack at the beautifully situated Café Gans am Wasser directly on the Mollsee.
Strolling in spring, hiking in autumn and skiing in winter – Munich and its surroundings have something to offer in every season:
The Walchensee with its turquoise waters is reminiscent of the Caribbean, Lake Wörthsee is one of the warmest lakes in Bavaria and the Fünfseenland invites you to visit Munich's most popular waters such as the Ammersee (lake) and Starnberger See (lake), which are easily accessible by public transport.
If you want to splash around and do some sightseeing at the same time, visit Schloss Herrenchiemsee (Herrenchiemsee Palace) on a cool morning and then jump into Chiemsee (lake).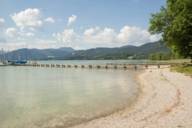 Hiking is also a great summer activity – this Hiking guide with bathing lakes offers great suggestions on where to cool off afterwards. If you prefer a more sporty option, you can take a canoe trip on the Isar from Bad Tölz.
Palace hiking guide: Our article "Königliche Wanderlust" (Royal Hiking Pleasure) offers various hikes to the palaces of Herrenchiemsee, Linderhof, Schachenhaus and, of course, Neuschwanstein castle.
Kloster Andechs (monastery): From Herrsching S-Bahn station, it is about a five-kilometre walk to the Benedictine monastery on Heiliger Berg (holy mountain). Here you can enjoy a beer and a snack in the Bräustüberl (traditional Bavarian restaurant).
Gorge hikes: For those seeking tranquillity and greenery: Summer is also the time for gorge hikes – not only for the breath-taking views, but also to cool off in hot temperatures.
If you want to hike in the Alps, there are several huts that provide ideal snack stops.
Zugspitze (mountain): Visit Germany's highest mountain on a rewarding day trip from Munich.
Summer events
Our events calendar offers numerous events in June, July and August to evoke even more summer spirit!
Text: München Tourismus; Photos: Christian Kasper, Tommy Loesch, Dominik Morbitzer, Frank Stolle; Illustration: Julia Pfaller