No matter what time of day or year, the Monopteros offers a spectacular view of streams, trees, churches and domes, making you feel happy and free. It's no wonder the temple in the English Garden has come to represent the cosmopolitan nature of the city of Munich.
The Monopteros is 16 metres tall – and reaches almost as deep into the ground. The elegant temple is built upon strong brick foundations that is neatly concealed by a man-made hill. This gives the Monopteros a stable base, offers a magnificent view of the city and makes it a part of the English Garden that can be seen from far and wide. Just like the Chinesischer Turm (Chinese Tower), it's one of the best known locations in the world-famous park.
King Ludwig I commissioned his court architect Leo von Klenze to build a Greek-style round temple. The Monopteros was constructed between 1832 and 1837 in honour of Elector Karl Theodor and King Maximilian. A green dome with a red top is supported by ten columns made of Kelheim limestone.
The construction of a temple was first suggested by the urban planner Friedrich Ludwig Sckell, who emphatically proposed the idea of a pantheon in a specially designed wooded area in 1807. It was envisaged as a place to honour Bavarian personalities. His nephew, the landscape gardener Carl August Sckell, managed to convince King Ludwig I to implement the plans. Sckell junior spent many years designing the raised embankment around the solid foundations and planting trees in certain areas.
The complex has since been restored on several occasions: firstly in 1898, then to repair war damages in 1944, once more in the 1950s and 80s, and most recently from 2014 to 2016. The latest restoration efforts have even given visitors a new effect to enjoy, as the building is now lit up at night by two spotlights.
The king and his men would never have expected the Monopteros to become a meeting place for alternative thinkers, minor artists, intellectuals, actors, hippies and "drop-outs", as it did in the 1960s. The Schönfeldwiese lawn between the temple and the Japanese tea house became a gathering place for nudists. These "nudies" may have caused quite a stir, but they also proved the tolerance of the city that let them be. This made the Monopteros a symbol of counter-culture and cosmopolitanism well beyond Munich.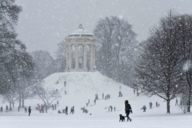 "Live and let live" is still the way of life at the Monopteros to this day, where the guitar is played in the setting sun. The hill might not be marked as an official toboggan slope, but nobody would ever dream of spoiling the fun for so many young visitors as they swoosh down on their sledges in the winter.
Frequently asked questions about the Monopteros
Photos: Dominik Morbitzer, Luis Gervasi