There's always something going on in this world-famous square – whether it's the Christmas market, the city's anniversary celebrations, the Glockenspiel, championship celebrations for FC Bayern or public gatherings for a variety of occasions. Here you can find out everything you need to know about Marienplatz.
Marienplatz (square) has been at the centre of the city since Munich was founded by Henry the Lion in 1158. It was the point at which all of the new city's most important streets met.
What's on Marienplatz?
These days, you can sit in the shadows of the Neues and Altes Rathaus (New and Old Town Halls) and enjoy a relaxing cup of coffee, watching the hustle and bustle around you. It is also the ideal place to start a tour of the shops in the pedestrian zone or Viktualienmarkt. If you want to act like a true native of Munich, arrange to meet up at the Fischbrunnen (fountain) in front of the main entrance to the Neues Rathaus. A must-see when visiting Munich is the Glockenspiel in the tower of the New Town Hall, which is one of the most popular sights in Munich.
At the centre of Marienplatz, you will find the Mariensäule (column). On top of the column, a golden statue of the Virgin Mary, the Patrona Bavariae, watches over the city and the state of Bavaria. The Mariensäule is the centre of Munich, which is why it is used as a starting point for signposts from other locations to the city. It is also a central point for Catholics: a total of three Popes have visited the column: Pius VI in 1782, Johannes Paul II in 1980 and Benedict XVI in 2006.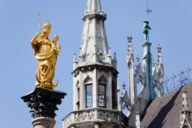 Elector Maximilian I had the 11-metre-tall column erected out of Tegernsee marble in 1638. The column was meant to symbolise his gratitude for keeping Munich safe while it was occupied by Sweden during the Thirty Years' War.
The Renaissance sculptor Hubert Gerhard is rumoured to have created the bronze figurine of the Virgin Mary for the grave of Duke Wilhelm V back in 1593. It adorned the high altar in Munich's Frauenkirche until 1613. Based on the traditional shrine to Mary in Loreto, the Virgin Mary is holding the Baby Jesus and standing atop a moon crescent. The four brave, battling putti on the base of the Mariensäule symbolise Mary's triumph over hunger (the dragon), war (the lion), plague (the basilisk), and heresy (the snake).
Marienplatz has been known by its current name since 9 October 1854 when it was renamed after the Virgin Mary following a cholera epidemic. Before that the square was known as the Schrannenplatz after the South German word for grain on account of the market that used to be held there. The aim of the new name was to bring an end to the outbreak.
Photos: Sigi Müller, istock/grafissimo, istock/viadacanon, Frank Stolle, Jörg Lutz, München Tourismus, Dominik Morbitzer, istock/seewhatmitchsee, istock/valet, istock/nikada