When the rooftops are covered in snow and smoke comes wafting out of the chimneys, it's time to go out sledging and then head back inside for a hearty meal. We have ten tips for you to make the most of winter in Munich!
Every season has its own delights – winter in Munich is especially popular when freshly fallen snow lies like icing sugar on the rooftops in the historical city centre. Locals gather in swarms to thaw their hands on mugs of mulled wine, their cheeks and noses red with cold. Or you can stop off to enjoy a hearty Bavarian meal at a cosy tavern after a long walk along the Isar river. From top-class cuisine to shopping tours, from new theatres to the Botanical Garden – we've compiled ten ideas for you to make the most of winter in Munich!
1. Go to Christmas markets
Every year, the pre-Christmas season is the best way to get in the mood for winter: The city sparkles and glitters, it smells of roasted almonds and mulled wine. You meet up with friends to shop for presents or in the evening at one of the many beautiful Christmas markets. The Christkindlmarkt on Marienplatz is certainly the most famous in Munich, but there are also many other beautiful Christmas markets in the surrounding districts. You can find a list of many beautiful Christmas markets in Munich in our article.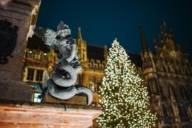 2. Pay a visit to Munich's new theatres
Four new theatres were established in Munich last year. Volkstheater moved from Stiglmaierplatz to a cultural centre in Schlachthofviertel with multiple stages, a carpentry workshop and an assembly hall as well as a restaurant and beer garden. Another newly opened facility is the Isarphilharmonie on the temporary premises of the Gasteig – its architecture and acoustics in particular have been highly praised. Hoftheater in Sendling just opened in autumn 2021, while Theater Schwere Reiter at Kreativquartier has moved into a new building on the same grounds. Familiar theatres such Kammerspiele, Deutsches Theater and the Bayerische Staatsoper (opera) are always worth a visit too, of course.
3. Take a tour of the town hall
If you're regularly overcome by an insatiable craving for Harry Potter during the winter months, you should definitely book a tour of the Neues Rathaus (New Town Hall) when you visit Munich. Along with the neighbouring Frauenkirche (church), the building on Marienplatz is one of the best-known landmarks in the historical city centre – the Glockenspiel in particular holds an endless fascination.
But the Neues Rathaus has lots to offer on the inside, too – the tour continues to be a great insider tip among locals. Guests are guided from the magnificent Law Library, through the neo-Gothic Assembly Hall to the world-famous town hall balcony. No Quidditch contests are held here, but Bayern Munich players do greet their fans from this balcony during championship celebrations.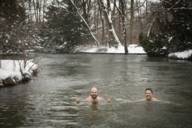 4. Ice bathing in the Isar
For centuries, bathing in sub-zero temperatures has been considered an exercise to strengthen the body's defences. In winter, more and more ice bathers can be seen in Munich, too, jumping into the Isar wearing only a cap and swimming costume. Our author tried it out for himself and ventured into the cold water when it was snowing. If you want to try ice bathing, you'll find lots of groups on the social networks - like "Hot Spring Munich".
5. Treat yourself
Meanwhile, treating yourself to a gift is something you can do any time: in Munich there's a wide range of traditional department stores and shops, some of which have been selling their goods for several centuries. You can find fine delicacies at Dallmayr since 1700 and to this day there are export goods from all over the world. Coffee and chocolates are particularly popular souvenirs - now also available in vegan. And Munich's historical town centre is home to a number of other former purveyors to the royal court: select fragrances have been on sale at Parfümerie Brückner since 1893, while Roeckl has offered fine leather goods for 180 years. If you're into luxury shopping, Maximilianstrasse next door is the place to go. The shopping tour is best rounded off with a visit to Munich's star gastronomy - like these upscale restaurants for lunch.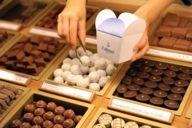 6. Warm up at the Botanical Garden
Perfect for frostbite and botany fans: the Botanical Garden next to Schloss Nymphenburg not only gives you the chance to explore some 14,000 different plant species, its tropical greenhouses also make it the perfect place to warm up. Among the palm trees and cacti you can allow yourself to be transported momentarily to a warm climate – like our author, who did a first-hand experiment to find out what it was like to spend a summer day in the middle of winter. With a little luck, you might get to see the popular butterfly exhibition where the butterflies are allowed to fly freely in the greenhouse. It doesn't get any more summery than that!
7. Go on a bar tour
Where better to spend long winter nights than in a bar? The most popular bars are spread all over the city - perfect for a little bar tour: in the Glockenbachviertel you'll find excellent and hip bars, while in Maxvorstadt you'll find more cosy student pubs. Meanwhile, the Schlachthofviertel invites you with more and more craft beer addresses and Giesing is known for its many boazn. If you want to drink your way through all the seasons, you can do so with our cocktail calendar: Barman André Meier from the very hip The High has made us his favourite drink for each month!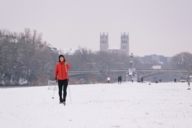 8. Winter sports in the heart of Munich
As soon as the first snow falls, Munich turns into a huge amusement park: how about cross-country skiing along the River Isar or ice skating on the Nymphenburg Canal? None of these winter sports require you to leave the city at all – our author tried everything from sledging to curling. If you prefer your sports indoors, you might find what you're looking for at one of Munich's climbing and bouldering centres or at the Jochen Schweizer Arena. Our tips for sports enthusiasts include lots of indoor activities – including the Olympic swimming pool and the ice skating centre.
9. Hearty food at the tavern
In summer people tend to be content with an aperitif and a light dinner, but in the cold season a substantial meal is definitely welcome. Winter is the perfect tavern season – when you can order a home-made roast pork with dumplings in cosy, warm setting, and a beer to go with it, of course. Nonetheless, more and more modern taverns in Munich are now trying their hand at the new Bavarian cuisine – which is often vegetarian or even vegan. If you want to get that pub feeling at home in winter, try one of the Bavarian dishes prepared by our chef Sven Christ – from roast pork and Steckerlfisch to sweet desserts like Scheiterhaufen.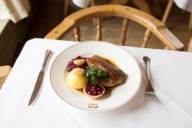 10. Take a winter excursion to the surrounding countryside
If you do want to get out of the city for a day, try one of these wonderful winter excursions: many of the gorges around Munich are open during the cold season, too, and at this time of year they offer a particularly distinctive experience – such as the night-time torchlight hike through Breitachklamm gorge. And Schloss Neuschwanstein is even more magical under a sprinkling of freshly fallen snow. Tegernsee (lake) is a popular winter destination – as is the Herzogstand on Lake Walchensee, where you have a fantastic view all year round. If all you're after is a nice walk, you're bound to find what you're looking for among our walks in Munich and the surrounding area.
Text: Anja Schauberger; Photos: Luis Gervasi, Dominik Morbitzer, Lukas Barth, Alois Dallmayr, Nansen & Piccard, Frank Stolle