No more dark – spring finally brings light, energy and lots of colour back into the city. We have collected 11 ideas of what you can do in Munich now.
Suddenly the time has come again: the first light makes the senses rejoice and enchants the whole city. Birds are chirping, at lunchtime you sit in a café in a T-shirt, your favourite ice cream parlour is open again. Spring enchants the city anew every year. We have collected eleven ideas on how to spend it in a particularly beautiful way:
1. Eating ice cream
The first ice cream of the year is something very special, because it feels like the end of winter – even when there is still snow outside. As soon as the ice cream parlours open their doors, the people of Munich start queuing up. On the one hand, because people in Italy's northernmost city naturally love to eat lots of ice cream, and on the other, because every scoop brings summer a little closer. Since Munich has so many good ice cream makers, it's sometimes hard to keep track of them all: Our ice cream guide has the right variety for everyone - whether vegan, fancy or Italian classic.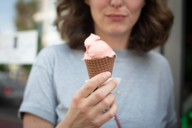 2. Walking with refreshment
As we all know, you can go for a walk at any time of year. In spring, however, it's so nice because you can get back into the swing of things. After months of cold, darkness and trudging in high snow, it's now time to take off your jacket, put on your sunglasses and get out into life. Nature is awakening from its winter sleep and with it, of course, the people of Munich. If that's not enough of a goal for you, pick a route with refreshments, where you can get one of the best coffees in town or chips on your hand - like at Café Bla on the Isar or the Gans am Wasser in Westpark.
3. Dare to be on the water
The sparkling water beckons us as soon as the sun is out. But it will still be a few weeks before it is warm enough for a day of swimming. If you still want to keep an eye on the waves until then, you can simply go out on the water. You can either canoe along the Isar, on a surfboard at the Floßlände or, for advanced surfers, at the Eisbach wave. If you prefer to get out of the city, take your SUP to one of the surrounding lakes – Starnberger See, Ammersee and Tegernsee are particularly suitable and not far away.
4. Discover the best sunny spots
With spring comes the same questions every year, such as: Where is the most sunny place right now? Our author took a ten-kilometre walk through Munich and discovered the most beautiful sunny spots – from morning to evening, from the first coffee to the last sundowner, from Max-Joseph-Platz to Haus der Kunst. Including the sunniest spots in the city centre, Maxvorstadt and Haidhausen!
5. Exercise outdoors
A plus point about Munich: You can do outdoor sports at any time of year. But as much as ice skating and cross-country skiing have their appeal, outdoor sports only really become good again when temperatures rise. If you are still looking for the right place: There is a huge outdoor fitness park in the Isarauen near the Brudermühlbrücke (bridge), an extensive exercise trail in Perlacher Forst and cycling is possible everywhere anyway. The most beautiful bike tours from the English Garden to the next street artist.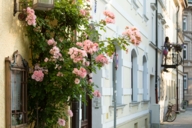 6. Marvel at blossoms
One half of the rent in spring is certainly the many rays of sunshine and the long-awaited warmth, but the other is nature finally coming back to life: magnolias and cherry blossoms can be admired, for example, in Preysingstrasse in Haidhausen, Georgenstrasse in Schwabing or also in the Rose Garden and Westpark. Munich's public squares such as Gärtnerplatz, Bordeauxplatz or Weißenburger Platz are beautifully planted at any time of year.
7. Discover Munich's bridges
There are over a thousand bridges and footbridges in Munich, connecting not only city districts but also the two sides of the Isar, each of which secretly thinks it is the better one. So if you want to understand Munich, you have to explore its bridges. There is the popular Reichenbachbrücke (bridge), which connects the lively Glockenbach quarter with the quiet Au. The Hackerbrücke (bridge), which is known for big parties and friendships, especially at the Oktoberfest. Or the world-famous Eisbachbrücke (bridge), from which Munich's surf scene can be observed by day and night at any time of year.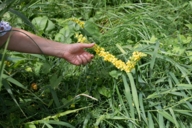 8. Collect wild herbs
Wild herbs have become a trend in recent years. Perhaps this is due to the desire to be able to provide for oneself in an emergency. But it is probably above all the lack of proximity to nature that triggers the desire among city dwellers to know again what is growing around them. Our author went on a wild herb hike along the Isar and discovered old acquaintances such as wild cherries, wild strawberries and hazelnuts, as well as tasting new ones such as scratchberry and ground ivy.
9. Make spring excursions
Spring is the perfect time for excursions into the Munich countryside: it's no longer so cold that you meet lots of winter sports enthusiasts on every mountain, but it's also not yet so warm that the mountains are full of hikers. And so the warmer season opens up a whole new world of tranquillity: you can take a leisurely stroll around the lakes in the surrounding countryside or visit Munich's local mountains almost alone. We recommend hikes to Bavaria's most beautiful castles or after-work hikes to match the spring - because at last it's light longer every day.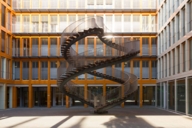 10. Discover art at second glance
As long as the museums are still closed, keep your eyes peeled on your next walk: because many works of art are incredibly well hidden in Munich. You may only discover Ólafur Elíasson's "Infinite Staircase" in the Westend at second glance – as well as the balancing man by sculptor Stephan Balkenhol in Kaufingerstrasse. The city has dozens of works of art in public spaces – and many of them are not even known by the people of Munich themselves.
11. Take a trip around the world through Munich
When the ceiling falls on your head, you don't have to get on the next plane right away. Even on our own doorstep, many places can be discovered that remind us of faraway countries. On a trip around the world through Munich, you can explore a piece of Asia in the Westpark, discover Italian architecture in the old town, walk through Parisian streets in Haidhausen or admire Greek temples on Königsplatz.
Text: Anja Schauberger; Photos: Frank Stolle, Dominik Morbitzer