The days are getting chillier and shorter; leaves are falling from the trees and things are getting nice and cosy indoors. We have put together nine ideas to make autumn in Munich even more beautiful!
Munich gets cosy when autumn arrives: people get together in traditional taverns to enjoy a hearty meal, or for a walk in the park. A few even cycle to work in traditional dress. Before there's time to start missing summer, people are already making plans to go mushroom picking together, hit the museums on a Sunday, or spend all day in a snug café. Autumn is also the perfect time to organise a city trip: it's sunny but no longer hot, the city is lively but not packed – and if you head into the mountains, with a bit of luck you might even find some solitude.
1. Rediscover Munich's museums
An absolute classic activity. Though they sometimes get overlooked during the heady days of summer, many of Munich's museums open their new exhibitions in the autumn. The Kunstareal museum area is always worth a visit, with the Pinakothek museums, the Brandhorst museum, the Lenbachhaus art gallery as well as the popular Deutsches Museum, which offers plenty for children to enjoy. If you're out and about in the Altstadt area, it's easy to stop in at the Münchner Stadtmuseum, the MUCA museum of contemporary art or the Kunsthalle art gallery. Locals will also often recommend the Haus der Kunst and the Valentin-Karlstadt-Musäum. One especially cosy autumn day out is a trip to the Alte Pinakothek art gallery, with time in the building's beautiful Café Klenze after a wander around the gallery itself. And remember: on Sundays, entry to a number of museums in Munich costs just one euro!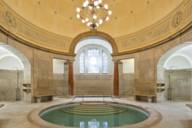 2. Swimming and sauna
When the outdoor pools have closed and the lakes in the region are too cold for bathing, Munich's indoor swimming pools are in high demand. One of the most beautiful of these is the Müller'sche Volksbad, which has been open in Haidhausen since 1901, and has recently been renovated. Visitors can swim lengths between historic murals and then build up a sweat in the Roman-inspired sauna landscapes. Another highlight when cold weather descends is the Dante heated winter outdoor pool, where you can swim outdoors all year round, in comfortably warm water. Built for the 1972 Olympic Games, the Olympic swimming pool has also retained a unique charm to this day. If you would like to combine a sauna and an excursion, you can travel to monte mare on Tegernsee lake or Schliersee lake, or head to the spa town of Erding.
3. Go on a forest walk
Perlacher Forst, the Allacher Lohe nature reserve, Hofoldinger Forst – Munich boasts many wooded areas to satisfy forest-lovers, both in its environs and in the city centre, for example along the banks of the Isar river. Our author took a wonderful walk in the woods with forest ranger and conservationist Dr Rudolf Nützel, with whom she explored the Allacher Lohe, home to up to 300 different species of mushrooms. Hofolding and Perlach forests are also perfect if you want to go foraging for mushrooms. And the best thing is that all forests near Munich can be accessed by public transport. For those of you out and about with the kids, we recommend the Wildpark Poing wildlife park or the Walderlebniszentrum Grünwald forest experience centre!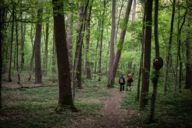 4. Enjoy some soup
What could be better than a bowl of hot soup once the autumn chill hits? Munich offers an astonishingly wide variety of options here. If you want to eat like the locals, you can order a genuine Bavarian bread or liver dumpling soup. Pancake and pretzel soups are also very popular; both originated simply as a way of using up leftovers, but can now be found on the menu of every traditional Bavarian tavern. If you don't want to spend too long scouring through menus to find the soup options, we suggest you head straight for the Münchner Suppenküche soup café, which also has a stall at the Viktualienmarkt food market. The ever-changing selection of soups and stews served at this establishment is designed to satisfy, whether you're a meat-lover or vegan.
5. Explore the cinema scene
Autumn also means it's finally time to go to the cinema again! Munich is home to many wonderful cinemas which offer something for everyone. If you prefer a charming, historic ambience, why not book tickets at Studio Isabella, which is over a hundred years old? Alternatively, you could head to the little Museum Lichtspiele cinema – or the movie theatre at Sendlinger Tor, where they still paint the film posters by hand. If you're looking for a more luxurious experience, you can spoil yourself with a champagne reception and relax in leather armchairs at the Gloria Palast, the ARRi cinema or the Astor Cinema in the Bayerischer Hof hotel. Meanwhile, the small independent cinemas in Munich showcase the diversity in the world of film: historic films are screened at the Filmmuseum, gin and tonics at the Monopol; and at the Neues Maxim you can lounge comfortably on a beanbag as you watch the film – it's like being in your own living room.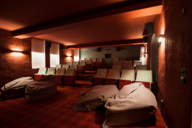 6. Go shopping
Unquestionably one of the best activities when the days are cold and dark: shopping! In the city centre, depending on your mood and the weather, you can explore Munich's traditional department stores such as Hirmer, Oberpollinger and Ludwig Beck, which is also known for its huge selection of music. If the weather is bad, it's best to head to one of the city's covered shopping centres, such as Fünf Höfe or Brienner Quartier. Individualists should explore the Glockenbachviertel or Maxvorstadt districts, which boast numerous second-hand shops as well as small Munich labels. Shopping for traditional costume is a popular pastime in Munich all year round: our authors went in search of the perfect dirndl and lederhosen – and didn't forget to find the right Haferlschuhe (traditional Bavarian shoes) and traditional hats.
7. Enjoy an autumn outing or a hike
It's cool and clear in the mornings and evenings, but daytime sunshine still warms your face – these autumn days are perfect for hiking. This time of year is particularly lovely in the Ammergau Alps, nestled between wild mountain forests and the fairytale castle. But the "Blaues Land" (blue land) around Murnau and Lake Kochel is also stunning, and provided the setting for the most important works produced by painter and printmaker Franz Marc. If you are particularly looking forward to stopping off in the mountains, we recommend our Alpine hut restaurant guide. Warmer autumn days are also perfect for bike tours – a great idea for those who no longer find it so easy to get around on foot. And if you don't want to travel too far out of the city, you can always go for a pleasant walk through Munich or its surrounding region.
8. Go to an autumn festival
In the autumn, half the city usually gets decked out in traditional dress to celebrate the greatest of all festivals: Oktoberfest. And even if you get tired of the Wiesn from time to time, you'll end up falling in love with it all over again whenever you find yourself travelling towards the festival grounds in your dirndl or lederhosen. If you find the hustle and bustle of the Oktoberfest a little overwhelming, you can visit the Wirtshaus-Wiesn instead – it's an equivalent festival of sorts, also including live music and beer, but distributed in taverns across the entire city. The Kirchweihdult is another autumn highlight in the city: although the Auer Dult traditional fair takes place three times a year, the Kettenkarussell (chairoplanes), the Geschirrmarkt (tableware market) and the little beer garden seem to go especially well with yellow leaves and the last bit of sunshine.
9. Sit in a beer garden for the last time
And finally, we come to our last autumn pursuit: visiting a beer garden. Just as that first outdoor beer in spring is special, Munich locals also cherish the last day of the year when they can enjoy a drink on a bench in the beer garden – whether it happens at the Kirchenweihdult, at Oktoberfest or in your favourite beer garden. If you're looking for further tips on some great beer gardens in Munich and its surrounds, you've come to the right place. An afternoon spent at the Waldwirtschaft beer garden followed by a stroll to the Großhesseloher Brücke bridge is especially lovely in autumn.
Text: Anja Schauberger; Photos: Werner Böhm, SWM / Robert Götzfried, Frank Stolle, Martina-Dobrusky, Tobias Schnorpfeil / Carolin Unrath