To explore Munich with its wide range of offers in the fields of art, culture and leisure activities in a simple and uncomplicated way, we introduce two new official visitor cards: the Munich Card and the Munich City Pass.
World-class museums and stages, famous palaces, many diverse attractions, supplemented by a large range of leisure activities, shopping and excellent cuisine: Munich has everything to offer which visitors to a big city could wish for. The high quality of our visitor cards is based on the participation of all the municipal, state and other big museums under the sponsorship of the state capital. You will hardly find an offer like this anywhere else in Europe!
The Munich Card
Reduced admission! From 11,90€!
In addition to the local public transport ticket, the Munich Card also provides a large selection of price reductions and discounts on entrance fees to museums, exhibitions, sights and other attractions in the city. You can also use the card to book guided tours of the city at a favourable price! Supplementary offers for shopping and restaurants help to round off a fabulous visit to Munich.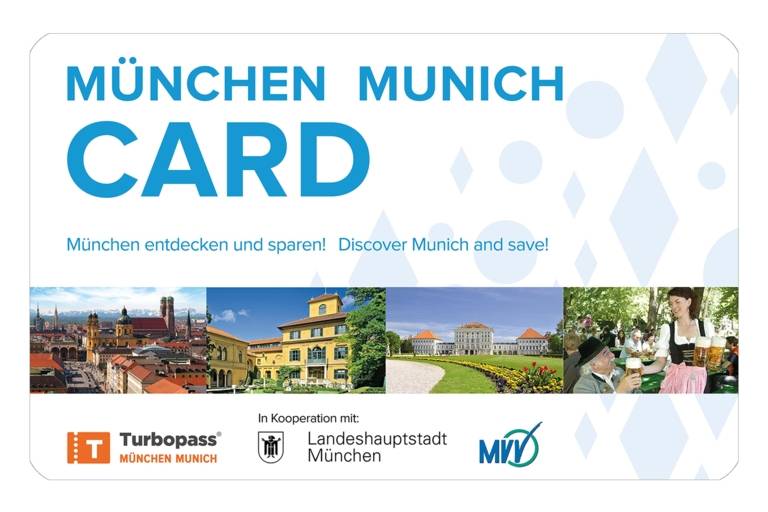 The Munich Card costs from 11.90 euros for adults (aged 15 and above) and from 4.90 euros for children (6–14 years of age). It's also available for groups of up to five people from 21.90 euros.
Tip: The Munich Card is ideal for individuals and small groups / families who want to be able to go on a flexible and spontaneous tour to explore the city and to save money at the same time!
The Munich City Pass
All inclusive! From 39,90€!
The City Pass gives you free entry to museums, exhibitions, tours and other sights. Holders of the City Pass also enjoy other benefits, in the German Museum, for example, they have not only free admission but also have preferential entry with no long waiting times. Supplementary offers for shopping and restaurants help to round off a fabulous visit to Munich.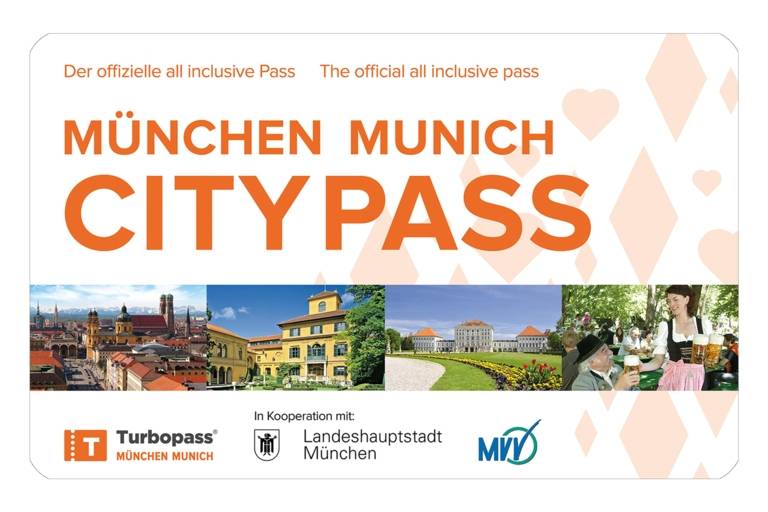 For adults prices start from 39.90 euros, prices for young adults (15–17 years of age) start at 29.90 euros and for children (6–14 years of age) prices start at 19.90 euros.
Tip: The Munich City Pass is ideal for visitors who make their plans in a price-conscious way and who want to see as much as possible of the city and its cultural attractions!
City area or entire network
Free use of local public transport
Holders of both the Munich Card as well as of the Munich City Pass can use public transport provided by the Munich Transport and Tarif Association (MVV) free of charge.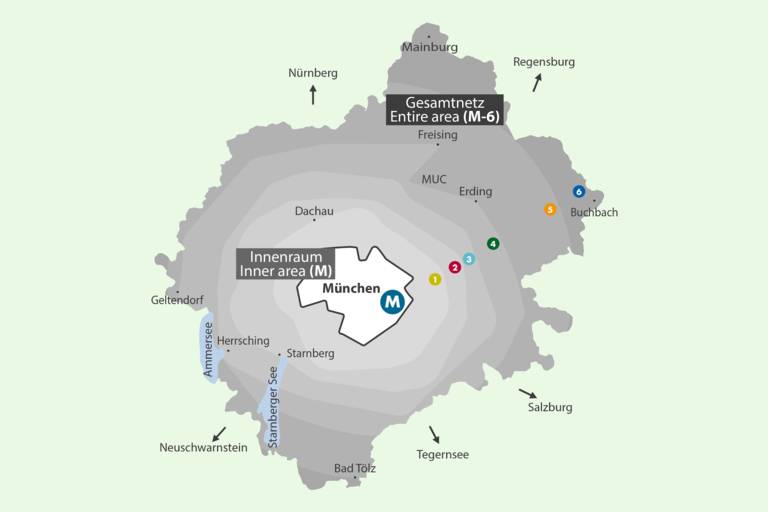 With both cards you can choose to book the entire network or only zone M (city area). If you book a card to cover the whole of the Munich public transport area, S-Bahn suburban railway travel to and from Munich Airport is included in the price. The validity can be individually adapted to your needs.
These institutions are included: Old Pinakothek, New Pinakothek, Pinakothek of Modern Art, Glyptothek, State Museum of Classical Art, State Museum of Egyptian Art, Five Continents Museum, National Museum, Design Museum, Brandhorst Museum, Nymphenburg Palace, Munich Botanical Gardens, Residenz and its Treasury, Lenbachhaus Art Gallery, City Museum, Jewish Museum, German Museum, Valentin Karlstadt Musäum, Art Hall, House of Art and many more!
Further attractions, such as a guided tour through the Bavaria Film City, a visit to the FC Bayern Museum, the ascent of the Olympic Tower or several guided tours of the city on foot, by bike or on the bus, covering many different topics and the most varied parts of Munich, are all included at either reduced prices or absolutely free. A range of shopping and restaurant options with some attractive offers rounds off the program.
The Munich Card (all benefits in a PDF file) and the Munich City Pass (all benefits in a PDF file) are distributed by Turbopass in cooperation with München Tourismus and the City of Munich. Both cards can also be ordered via telephone at München Tourismus (+49 89 233 96500) and at the Tourist Information Marienplatz and Hauptbahnhof (central station).
Here you will find an overview of all our maps and brochures ready to download.
Photo: Turbopass; Graphics: Turbopass