There are two official guest cards for a relaxed and uncomplicated discovery of the diverse range of art, culture and leisure activities in Munich: the München Card and the München City Pass. All benefits at a glance.
Guest cards for Munich in comparison: Which card is worthwhile?
World-class museums and stages, famous palaces, many diverse attractions, supplemented by a large range of leisure activities, shopping and excellent cuisine: Munich offers everything that appeals to city travellers. With the guest cards, you can now experience Munich in all its facets and save big at the same time.
Guest cards at a glance
The Munich Card
Reduced admission! From 16,90€!
The München Card offers a wide range of reductions and discounts on entrance fees to museums, exhibitions, sights and attractions. City tours can also be booked at a reduced price. Supplementary shopping and gastronomy offers complement the Munich Card. Another highlight is the included ticket for local public transport, which allows you to easily explore the city by metro, tram, bus and suburban train.
Tip: The Munich Card is ideal for individuals and small groups / families who want to explore the city and save money at the same time!
The Munich City Pass
All inclusive! From 39,90€!
With the Munich City Pass, everything is already included: the public transport ticket for Munich, free admission to museums, exhibitions, tours and sights, and in some cases even priority admission without annoying waiting times. Supplementary offers for shopping and restaurants help to complement a fabulous visit to Munich.
Tip: The Munich City Pass is ideal for visitors who make their plans in a price-conscious way and who want to see as much as possible of the city and its cultural attractions!
City area, entire network or without public transport
Free use of local public transport
Depending on the choice, holders of both the München Card and the München City Pass can use the Munich public transport system (MVV) free of charge.
Or now new: Both guest cards are now also available without a public transport ticket.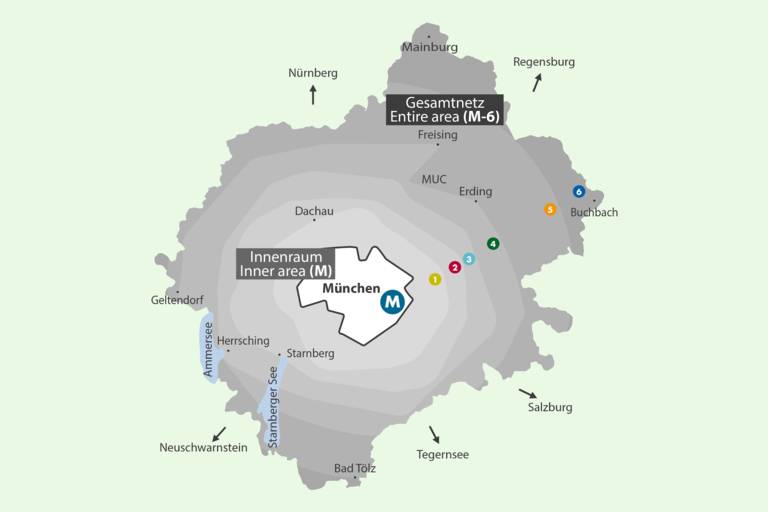 Of course, Card and Pass can still be booked either with the entire network (Zone M-6) or with Zone M only. If you book a card to cover the whole of the Munich public transport area, suburban railway travel to and from Munich Airport is included in the price. The validity can be individually adapted to your needs.
Frequently asked questions about the Munich guest cards
The Munich Card (all benefits in a PDF file) and the Munich City Pass (all benefits in a PDF file) are distributed by Turbopass in cooperation with München Tourismus and the City of Munich. Both cards can be ordered online and at the Tourist Information at Marienplatz and Hauptbahnhof (central station).
Here you will find an overview of all our maps and brochures ready to download.
Photo: Turbopass; Graphics: Turbopass