An hour's drive south of Munich, nestled nicely by Lake Kochel is the little municipality of Kochel am See. This is where Munich-born Franz Marc and his "Blauer Reiter" artist group found lots of motifs for their world-famous works. Visitors can admire these in the museum and stroll through the original locations.
The spa town of Kochel am See has only 4,000 inhabitants and is situated by two lakes in the foothills of the Herzogstand mountains. Many people from Munich visit the area to cycle, hike and relax. Lake Kochel and the neighbouring Walchensee are also wonderful for swimming, fishing and water sports. Visitors can travel in gondolas to huts and alpine pastures, from where they can enjoy magnificent views.
As a student at the Academy of Fine Arts, Franz Marc was often attracted to the rural and inspiring community with its mountains and water. He even relocated from Munich to the Bavarian highlands in 1908, and he realised his dreams by buying a house in Ried in 1914. The landscape around Kochel was his "Blue Land".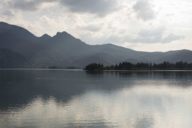 In 1986, the Franz Marc Museum was opened in Kochel to display the expressionist artist's work in the area where most of it was created. It features over 150 masterpieces from his estate and is supplemented by loaned works from the Bayerische Staatsgemäldesammlungen (Bavarian State Painting Collections). Visitors can also discover several personal items and written documents from Marc's life at a permanent exhibition and annual temporary exhibitions.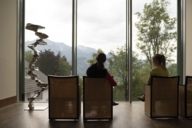 A modern new building expanded the exhibition area to 700 square metres in 2008, improving the presentation of Marc's works and putting it in interesting contexts. There's now enough space for the collection of Etta and Otto Stangl, including some of Marc's contemporaries like Paul Klee, which means Marc's work can now be contrasted with that of the "Red Bridge" artist. It can also be compared with German post-war abstract art. The exhibition shows how Marc and his artist friends Wassily Kandinsky, Gabriele Münter and Alexej von Jawlensky decisively influenced art in the second half of the 20th century, from representations and allegories to abstractions. It also reveals Marc's personality and visionary spirit.
But the museum isn't the only place where art lovers can get closer to the famous painter… Kochel also has a themed trail with ten stations, presenting the motifs that inspired Marc to create his colourful work. Museum educator Silke Lühr offers guided walks from May to September, starting at the train station. If you want to enjoy more flexibility, you can download the free audio guide mobile app; it was designed by the local community and museum and can even be used offline. Alternatively, you'll find brochures at the tourist information centres in Kochel am See and by Lake Walchen to help guide the way to the original locations of Marc's motifs.
Also interesting: Our author tried out the themed trail and wandered on the traces of Franz Marc. Here she explains why she was so impressed: The home of "Der Blaue Reiter"
Photos: Frank Stolle