Munich is one of Germany's top travel destinations – even in winter! The Bavarian capital has numerous museums, great excursion destinations, many indoor attractions and winter leisure activities to offer. Whether in 4 or 24 hours, over a long weekend or a whole week, there is always something to discover in Munich. Here are our suggestions for cold days in Munich!
Munich on Cold Days: Tips at a Glance
- Places of Interest in Munich
- Museums in Munich
- English Garden in Winter
- Olympiapark (Olympic Parc) in Winter
- Nymphenburg District
- Tierpark Hellabrunn (Hellabrunn Zoo)
- Indoor Swimming Pool, Thermal Baths, Spa and Sauna
- Shopping Tips
- Cafés in Munich
- Winter Excursions In And Around Munich
- Evening Programme: Theatre, Music and Dining
Places of Interest in Munich
Münchner Kaiserburg (Imperial Castle): In the Gothic vault of Alter Hof (old yard), you can immerse yourself in the history of the city. The richly illustrated multimedia presentation will enthuse not only tourists.
City Tour: A bus tour through the historic old town is a great way to discover Munich. You can get on and off at any of the numerous stops.
Munich by Tram: You can take an individual tour of the city on tram 19. Alternatively, you can explore many sights comfortably on board tram 21. We recommend that you take tram 21 from the main station to the Ostbahnhof (Munich East) and on your way have a look at the following attractions, for example:
Karlsplatz (square): This square, better known as Stachus, is a popular starting point for a shopping spree through Munich's Fußgängerzone (pedestrian street).
Lenbachplatz: "Künstlerhaus am Lenbachplatz", a former clubhouse for Munich artists, was initiated by the well-known painter Franz von Lenbach, after whom the square is named.
Theatinerstrasse: From here, it is only a stone's throw to Marienplatz (main square) and the famous Glockenspiel (carillon).
National Theatre: The Munich National Theatre is located on Max-Joseph-Platz (square), and is home to Bayerische Staatsoper (Bavarian State Opera), Bayerisches Staatsballett (Bavarian State Ballet) and Bayerisches Staatsorchester (Bavarian State Orchestra).
Maxmonument: The Max II Monument is dedicated to Bavarian King Max II, who developed his own architectural style, the so-called Maximilian style, which can be thoroughly admired along Maximilianstrasse.
Maximilianeum: High up on the banks of the Isar, towers the crowning glory of Maximilianstrasse, the Maximilianeum, seat of the Bavarian Parliament.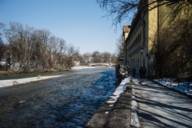 Museums in Munich
Münchner Residenz (City Palace): The city palace was the seat of the Wittelsbach rulers for centuries and is now one of the most distinguished spatial art museums in Europe.
Haus der Kunst (Art Gallery): One of the leading international art museums for contemporary art from all over the world. It does not house its own collection and can therefore present itself to art lovers in very diverse ways.
Bayerisches Nationalmuseum (Museum) houses the world's most artistically valuable nativity scene exhibition of its kind. The exhibition focuses on Christmas scenes crafted in Italy and the Alpine region between 1700 and the early 20th century. It is open from the beginning of November until the end of January. During the rest of the year, visits are possible by appointment only.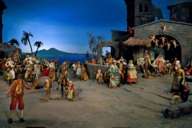 Kunstareal (Art Quarter): A total of 18 museums and exhibition halls, over 40 galleries, six universities and numerous cultural institutions are grouped together in this area.
Staatliche Antikensammlung (State Collections of Antiquities): Right in the centre of Munich, at Königsplatz (square), the Staatliche Antikensammlung (State Collections of Antiquities) and the Propyläen (Propylaea) are housed and enthuse fans of ancient art.
Lenbachhaus (Art Gallery): This is the home of the world's largest exhibition of the artists' group "Blauer Reiter".
English Garden in Winter
Eisbachwelle (River Wave): For 40 years now, the Eisbachwelle (river wave) at the entrance to the English Garden has thrilled surfers who meet there in their wetsuits, even in freezing temperatures. Our author wants to learn how to river surf and dares to give it a try herself.
Carriage Ride: A carriage ride through the English Garden in winter is a very special experience. Afterwards, you can warm up with a delicious soup at Fräulein Grüneis kiosk or get into one of the heated original Zugspitze train gondolas at Milchhäusl snack bar and enjoy a cup of organic cocoa or non-alcoholic Winter-Äxel punch. You can also take a seat in the mini Hofbräuhaus (beer hall) in the northern part of the English Garden. In the heated tent, you can enjoy traditional Bavarian food.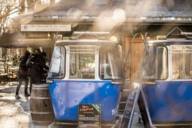 Kleinhesseloher See (Lake): If you have ice skates, you can enjoy a few laps on the lake in the English Garden, which freezes often and quickly, or, alternatively, you can watch the curlers.
Monopteros (Temple): The hill at the foot of the ornamental temple in the English Garden is the perfect spot for tobogganing.
Olympiapark (Olympic Park) in Winter
Olympic Ice Sports Centre: Here you can skate your rounds on the ice almost all year round. The disco-evening ice skating is particularly popular.
Olympiaberg (Olympic Hill): The perfect downhill run for young and old. The flatter part is ideal for children, while more experienced toboggan fans can take the steeper and longer runs.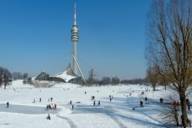 The Nymphenburg district in winter
Schloss Nymphenburg (Nymphenburg Palace) with its magnificent park is one of the largest baroque palaces in Germany. Especially in winter, when Nymphenburg canal is frozen, this becomes a meeting place for numerous ice skaters, ice hockey fans and curling enthusiasts.
Botanischer Garten München-Nymphenburg (Munich Botanical Garden): Some of the greenhouses have a tropical climate and the flowering plants quickly make you forget the winter temperatures. One of the highlights is the butterfly exhibition.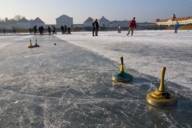 Tierpark Hellabrunn (Hellabrunn Zoo)
In line with the weather, you can admire snow owls, penguins, polar bears and Patagonian sea lions at the polar world of Tierpark Hellabrunn (Hellabrunn zoo), the world's first geo-zoo. Just a few metres further, in perfect contrast to the polar world, is the African savannah with zebras, antelopes, meerkats and lions.
Indoor Swimming Pool, Thermal Bath, Spa & Sauna
Müller'sches Volksbad (Indoor Pool): On cold days, it's a treat to unwind in Munich's oldest public indoor pool or in one of the other indoor pools or saunas in and around Munich.
Hamam: In the Hamam Anatolia, an authentically reconstructed Turkish steam bath in the south of Munich, you get carried away to Anatolia. Or you can become part of the Arabian Nights in the oriental spa and steam bath Mathilden Hamam near Sendlinger Tor (gate).
Therme Erding (Thermal Spa): Only about 45 minutes from Munich, you will find one of the largest thermal baths in the world with 27 slides, a wave pool and a unique sauna landscape. With the MVV-Thermen ticket, you have 4 hours of admission, including an environmentally friendly journey by suburban train from Munich.
Especially on cold days, a shopping spree through Munich's malls or the shopping arcades and districts in the old town is worthwhile. Around Gärtnerplatz (Square), away from supermarket chains and department stores, you will find many individual gifts. If you are looking for flagship stores and high-end brands, you should shop between Maximilianstraße and Brienner district.
Cafés in Munich
In the afternoon it's time for a tea or coffee break. Enjoy typical English Afternoon Tea at Hotel Vier Jahreszeiten or at Victorian House at the Viktualienmarkt (food market). Many traditional cafés offer a very special coffee treat: Café Luitpold in the Brienner district was once frequented by great writers and members of the "Blauer Reiter" art scene, while Café Glockenspiel offers a fantastic view. In our column Ein Liebesbrief an die Münchner Cafészene (A Love Letter to Munich's Café Scene), our author explores several cafés in Munich.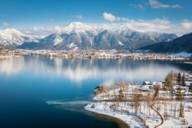 Winter Excursions In and Around Munich
You can have fun on the ice at Eissportzentrum Ost (Ice Sports Centre East), not far from Michaelibad (indoor pool), or Eissportzentrum West (Ice Sports Centre West), in the Pasing district.
Prinzregentenstadion (Ice Rink): The 60-metre-long skating rink with music and floodlights is a real treat for ice-skating fans.
Ice skating in Grünwalder Freizeitpark (Recreational Park): The park in the heart of the Grünwald community offers a wide range of sporting facilities, including an ice rink.
Ice Bathing in Munich: Our author dared to try it out in freezing temperatures.
Ski Tours in the Mountains Around Munich: Here you find an overview of the ski tours near Munich.
Königssee (Lake): Emerald green water at the foot of the legendary Watzmann East Face - a trip to Königssee (lake) in the Berchtesgaden National Park is a unique nature experience! The Königsschifffahrt shipping company travels to the peninsula of Sankt Bartholomä throughout the winter – ice permitting.
Skiing: With the Garmisch ski ticket or the Oberstdorf ski ticket, you can reach the slopes by train.
Ski Bus Munich: Travel to the slopes in an environmentally friendly and stress-free way! There are regular bus connections from Munich's central bus station (ZOB) to ski resorts such as Hochzillertal, Skiwelt Wilder Kaiser and Kitzbühel.
Popular cross-country ski trails can be found around Lake Tegernsee, between Lenggries and Bad Tölz, in Chiemgau/Chiemsee (lake) and in Berchtesgaden.
In Munich, the Westpark, the Isarauen and the Nymphenburger Park promise great conditions for cross-country skiing in winter snow flurries.
Snow tours or snowshoe hikes to Hinteres Hörnle (summit) (1,542 metres): This beautiful snowshoe hike (suitable for beginners) leads over several peaks and rewards visitors with a breathtaking panoramic view. The duration of the tour is about 4.5 hours and you will climb approximately 756 metres in altitude. The tour starts at the Tannenbankerllift car park in Bad Kohlgrub. You can get to Bad Kohlgrub railway station or Bad Kohlgrub Kurhaus by car or by train (about 1.5 hours from Munich).
Winter Hikes In and Around Munich: There is a wide choice of different winter hikes in and around Munich. Discover our six suggestions for varied excursions, including places to stop for a warm-up.
Winter Mountain Hike to Seebergkopf (summit) (1,538 metres): The duration of the hike is about five hours (without breaks) and you will climb approximately 790 metres in altitude. The hike starts at the train station in Bayrischzell, which can be reached from Munich by Bayerische Regiobahn (regional train service) in about 1.5 hours.
You can get the necessary equipment for your skiing or cross-country skiing tour at one of the three service centres of the German Alpine Association.
From snow-covered Schloss Neuschwanstein (Neuschwanstein Castle) to the icy Partnachklamm (Gorge): We have put together eight excursion destinations that are particularly appealing in the cold season.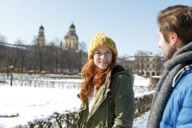 Evening Programme: Theatre, Music and Dining
Deutsches Theater (Theatre): It has been THE musical house in Munich right from the time of the European première of "West Side Story" in 1961. Since then, the most popular musicals have been performed here, whether directly from Broadway or London's West End. Beyond that, the programme includes modern dance theatre, operetta and top-class shows.
Münchner Philharmoniker (Munich Philharmonic Orchestra): Since its foundation in 1893, the orchestra has enriched Munich's musical life under renowned conductors. In October 2021, the Munich Philharmonic Orchestra opened its new home and venue, the Isarphilharmonie, while the Gasteig (cultural centre) is being renovated.
Symphony Orchestra of Bayerischen Rundfunk (Broadcasting Station): The orchestra focuses on symphonic music of the Viennese Classical period, Romanticism and New Music. It enjoys an absolutely deserved high international reputation.
Munich's Cabaret Stages: When it comes to stages, Munich is best known for its large venues. However, there is also plenty of cabaret in the city.
Pasta Opera: The multi-faceted opera spectacle transports guests back to the rococo era, musically accompanied by the most beautiful arias in opera history.
Dinner "Rausch der Sinne" (Sensual Delight): Let your eyes trick you during various light shows at Schlosswirtschaft Schwaige and experience a new sensual dimension.
ParkCafé Winter Beer Garden: Whether city alpine hut, curling rinks or cabin magic, here you are guaranteed to spend a wintry evening in the cold season.
Gärtnerplatz-Alm: This pub is famous for its fondue variations and other alpine specialities.
Text: München Tourismus; Photo: Redline Enterprises, Christian Kasper, Luis Gervasi, Sigi Müller, Sven Kolb, Dominik Morbitzer, Tobias Schnorpfeil / Carolin Unrath; Illustration: Julia Pfaller; Video: Redline Enterprises