Even in winter, the area around Munich offers many attractive excursion destinations that can be reached after a short journey by car or train. From Schloss Neuschwanstein (Neuschwanstein Castle) to the icy Prachtnachklamm (gorge): We have compiled eight excursion destinations that are particularly appealing during the cold season.
Neuschwanstein Castle: A fairy-tale setting just like in Disney World
King Ludwig II's Schloss Neuschwanstein (Neuschwanstein Castle) is not called the "fairy-tale castle" for nothing – in fact, it served as the inspiration for Disney films such as "Cinderella" and "Sleeping Beauty". By the way, the small Olympic Hall will host an exciting exhibition in 2023 to mark Disney's 100th anniversary. The former retreat of the Bavarian fairy-tale king, who unfortunately only lived there for a few months, is now open all year round. And the castle in the Allgäu region looks particularly romantic when it is covered in snow. Besides, the castle is usually less frequented in winter – around 1.5 million people visit it throughout the year.
How to get there: From Munich, you can reach Schloss Neuschwanstein by car in just under two hours. The last opportunity to park your car is at the village of Hohenschwangau. If you travel by train, get on bus 78 in Füssen, which will take you all the way to the castle. From Munich main station, the journey takes a total of two and a half hours.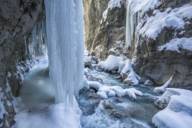 Partnachklamm (gorge): Magical world of ice near Garmisch
In winter, only selected gorges around Munich are open – fortunately, the Partnachklamm is one of them. Dressed in warm clothing, you can experience a true natural spectacle here. Since the gorge near Garmisch hardly receives any sunlight, metre-high icicles hang from the rock. From October to May, the Partnachklamm gorge is open to visitors between 8 am and 6 pm – here, you can experience a real world of ice! However, it is always advisable to take a look at the website and be aware of any unplanned closure. Also remember to wear sturdy, warm shoes and bring hiking poles!
How to get there: It takes about one and a half hours by car from Munich to Partnachklamm. There is a large car park at the ski stadium, just before you leave Garmisch-Partenkirchen. Buses 1 and 2, which depart from the Garmisch-Partenkirchen railway station, also stop here. From the ski station, it is a 25-minute walk to the gorge.
Herrenchiemsee (lake): Discover the "Bavarian Versailles"
A visit to Chiemsee (lake) is not only worthwhile in summer – especially Schloss Herrenchiemsee (Herrenchiemsee Palace) offers an even more intense experience in winter. The palace was commissioned by King Ludwig II on the model of Versailles. Today, the Grand Staircase, the State Bedroom and the Great Hall of Mirrors are highlights that are well worth a visit! If you still have time and fancy more explorations after the Herreninsel (island), take a 10-minute boat ride to Fraueninsel (island) – here, you can not only enjoy an enchanting Christkindlmarkt (Christmas market), but also the pilgrimage site Kloster Frauenwörth, the oldest nunnery in Germany.
How to get there: It takes between one and one and a half hours to drive from Munich to Prien am Chiemsee. Follow the signs to "Chiemsee / Königsschloss", where you will find a car park. Then take the boat across to Herreninsel. Rail travellers reach "Prien am Chiemsee" in about an hour and walk about 20 minutes from there to the boat landing.
Tegernsee (lake): Skiing, tobogganing and sauna fun
Lake Tegernsee is one of the most popular destinations in the Munich area at any time of year. In winter, however, it is particularly beautiful – and this is not only due to the picturesque Bavarian landscape between the mountains and the ice-blue lake. The region also offers one of the largest connected ski areas in the Alpine foothills, as well as one of the longest natural toboggan runs in Germany on the Wallberg (mountain). Cross-country skiing is also particularly popular at Lake Tegernsee, and curling has a long tradition. Those who prefer to stay indoors can head to the lakeside sauna, the iodine-sulphur baths in Bad Wiessee or stop off at one of the Bavarian inns.
How to get there: The journey from Munich to Tegernsee takes about an hour, both by car and by train. Or you can travel nonstop with the Bavarian Regiobahn (train)!
Therme Erding (thermal spa): The largest thermal spa in the world
With a total area of 430,000 square metres, Therme Erding is in fact the largest thermal spa in the world – and it's only about 30 kilometres from Munich! There is so much to discover here that you will probably want to spend not just one day, but a whole weekend in the comfort of the on-site hotel. In addition to a slide park with 27 water slides and a huge swimming pool area, Therme Erding also has a sauna landscape. You can try out 35 saunas and steam baths or rent your own relaxation area.
How to get there: The journey from Munich to Therme Erding takes between 30 and 45 minutes by car. There are plenty of parking spaces on site. If you travel by public transport, take the S2 Erding (suburban train) to the "Altenerding" stop – from there you can either take the bus or walk 800 metres.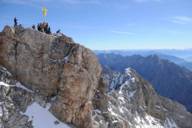 Zugspitze (mountain): Hike, toboggan and enjoy
There are three mountain railways leading up to Germany's highest mountain these days, two of which are in Bavaria – the historic cogwheel railway and the modern "Seilbahn Zugspitze" (cable car). In winter, several ski lifts run up to the Zugspitzplatt (plateau). If you don't want to ski, you can toboggan on the plateau (also in summer), visit the glacier restaurant or go for a walk. On a clear day, you can enjoy a spectacular view of mountain peaks of Germany, Austria, Switzerland and Italy. If you like, you can also explore Eibsee (lake), which you can admire in all its glory from up here!
How to get there: Travellers by train get off at Garmisch-Partenkirchen – from the station, the cogwheel railway takes you across the Eibsee to the Zugspitzplatt. By car, it is best to drive to the cable car right at the Eibsee (lake), which leads up to the Zugspitze. There are plenty of parking spaces at the cable car station. The journey takes about two hours by train and one hour and 15 minutes by car.
Königssee (lake): Between the Malerwinkl view point and the Ice Chapel
This is where Bavaria reveals its most beautiful side – all year round: A view of Lake Königssee from Malerwinkl viewpoint, a boat ride to Sankt Bartholomä or a stroll along the water edge will make you understand why the Berchtesgadener Land is such a popular destination. In winter, you can go cross-country skiing, ski touring, snowshoeing or tobogganing in the area around Königssee. If you prefer to stay on site, you can, for example, take a winter hike to the impressive Eiskapelle (Ice Chapel): From Sankt Bartholomä, the path leads around six kilometres to the all-year ice field.
How to get there: It takes about two hours by car from Munich to Schönau am Königssee, by train between two and three hours – depending on the connection. From Schönau, you can walk to Königssee and the Jennerbahn (cable car), and if you want to get to the other side of the lake, you can take the boat. It runs all year round, except in icy conditions!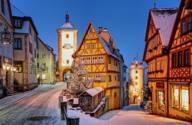 Rothenburg ob der Tauber: A Christmas town straight out of a storybook
If you are looking for a picture-perfect Christmas town, Rothenburg ob der Tauber is the place to be! The Franconian town is not only home to the German Christmas Museum and Christmas decoration manufacturer Käthe Wohlfahrt, but also to the world-famous Christmas market once a year. And the location between medieval city walls and cute half-timbered houses rounds off the experience. No wonder the medieval old town becomes a popular destination as soon as the first snow falls.
How to get there: Both by car and by train, the journey from Munich to Rothenburg ob der Tauber takes about three hours. You can also stay overnight there and add a stopover in Nuremberg.
Text: Anja Schauberger; Photos: erlebe.bayern / Tobias Gerber, Rothenburg Tourismus Service, erlebe.bayern / Bernhard Huber, Der Tegernsee/Dietmar Denger, Bayerische Zugspitzbahn Bergbahn AG / Herbke