Munich is visited by many influencers throughout the year who capture the city through videography, blogging and photography. To get an impression of their creative work and find out what they liked most about Munich, we provide a questionnaire. This time: Sarah Funk, a travel journalist and video producer from the US, known as SarahFunky.
How had you imagined Munich before your visit?
I thought it was a lot of lederhosen and beer. I thought of very stereotypical German things that I have seen on TV. I had no idea what to expect!
And how did it turn out to be?
It was a lot of fun. A fun mix of historical and modern vibes. I loved how Munich embraced the culture more than other German cities and kept true to being the heart of Bavaria. It has it's own personality compared to other cities and I loved that.
What was the most interesting place?
Watching the river surfing was fascinating, because that is something I have never seen anywhere else in the world and I've been to over 40 countries!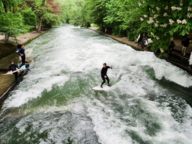 What was the tastiest food? What was the best drink?
I enjoyed trying the different cheeses and sausages at Viktualienmarkt. The best drink for me had to be the radler. It might seem like a basic choice but I do not ever drink beer or anything beer based in the States. It was a big deal that I liked a radler enough to drink the whole thing every time we went out!
What was your favourite moment?
I liked ziplining from Olympic stadium. I'm an adventurer so I always enjoy that type of stuff the most during a trip.
What did you learn?
I learned that Germany is not like it is portrayed in the movies. It is very modern but yet embraces its history. I was also really fascinated about how it came back from the devastation of WWII and what the locals thought of that time in their history. It was interesting to learn that they don't try to hide it and instead have learned the importance of acceptance from it.
What did you take from your visit?
I did not bring back anything (which is what I normally do) because I take so many photos and video. Those are my digital souvenirs!
You can give your friends three tips for a trip to Munich – where do you tell them to go?
Watch my video for more than three tips! But if I have to choose three I would say go to a beerhouse, ride a bike through the city to explore it properly and see the river surfing because it is so unique.
What do you want to do on your next visit?
I would love to explore more of the countryside. I've heard lovely things about it and think it is important to the story of Munich's development.
Which photo of Munich got the best response from your followers?
For me it was not a photo. It was my YouTube video which has 158,000 views!
And which photo do you personally like the most? Why?
I love the one that was featured on Travel and Leisure. I think it is beautiful because of the colors and how symmetric it is.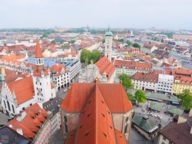 What are your three golden tips for travelling?
Pack light but smart. Make local friends as fast as possible (they have the best suggestions). Try the local food because it tells you the most about a culture.
And last but not least: What do you think people from Munich mean when they say Diridari? Any ideas?
I have no idea but it is very catchy. It should be a song!
*in the bavarian dialect, DiriDari means every form of payment, most likely bucks or cash.
3 questions on Sarah Funk's work
Who are you and what do you do?
I am a travel journalist and video producer and I have been to over 40 countries. I run a New York City and travel brand called SarahFunky, and I am frequently seen on Travel & Leisure's Instagram stories taking over their account of 37,000. I also run a course on how to Travel the World & Make Money Doing It. I have a following of 100,000 and 7 million impressions on my site/social handles monthly. I was recently featured in Forbes discussing the top destinations of 2019.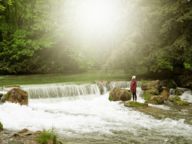 Where do you get inspiration for your work?
From the people that watch my videos and send me notes saying that it helped them plan their trip and because of my suggestions they had the best time ever!
What's the biggest challenge in your job?
It is very difficult to do everything. When you run your own business you have to be good at all aspects of running a company; from finance, to video production, to storytelling, to sales, and marketing. It requires a lot more work than most people think.
Thank you, Sarah!
Photos: Sarah Funk