Munich is visited by many influencers throughout the year who capture the city through videography, blogging and photography. To get an impression of their creative work and find out what they liked most about Munich, we provide a questionnaire. This time: Michael Sidofsky (Instagram: @mindz.eye), a professional photographer from Canada.
How had you imagined Munich before your visit?
I recently had the opportunity to travel through Germany, photographing everything I saw along the way. One of my favorite stops on my trip was Munich! Before arriving there, I imagined a stereotypical, slow paced Bavarian town complete with lots of beer, bratwurst and lederhosen, but boy was I surprised.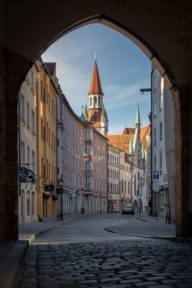 And how did it turn out to be?
I discovered a cosmopolitan city full of life and energy comparable to most capitals in Europe. I was only there for a day and a half but managed to visit a few spots including St. Peter, Marienplatz, Englischer Garten (park), and the Residenz. As a photographer, I always try to research my photo spots ahead of time and create a shot list for my visit but I've learned to always expect the unexpected.
What was the best place for taking a great picture?
One morning while walking from my hotel to Marienplatz, the Siegestor caught my eye. I decided to grab a few quick shots focused on the lion-quadriga framed by the beautiful buildings that line Ludwigstrasse. This turned out to be my favorite photo from Munich.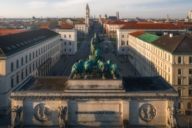 What is a must see attraction in Munich and why?
Another highlight for me was exploring the modern and unique subway platforms that contrast the baroque style city above. I highly recommend this to any photographers planning to visit.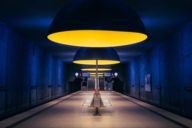 How about the Bavarian food, any suggestions for friends travelling to Munich?
As much as I focus my travels around photography, I always take the time to immerse myself in the local culture through food. I had my most memorable food experience in the centre of town at Viktualienmarkt. There you can find just about any Bavarian dish and wash it down with some of the best beers in the world. A definite must, when visiting Munich.
Last but not least, do you have a personal tip for people travelling to Munich?
All in all, I had a wonderful time in Munich and if I could provide any advice to people travelling there it would be to bring a comfy pair of walking shoes, a camera, and a big appetite!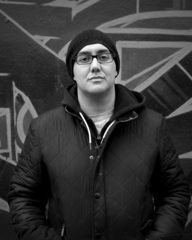 Who are you and what do you do?
My name is Michael Sidofsky and I'm a professional photographer from Toronto, specializing in travel and commercial photography. Being an avid traveler and photographer, my goal is to capture the essence of a destination through the use of advanced techniques in photography and post-processing. I believe this is what sets my images apart from other photographers. My images aim to portray a unique perspective of places or things that may seem commonplace to the everyday eye, but which trigger some sort of emotional reaction. Whether I'm shooting landscapes, cityscapes, streets or architecture, my goal is to always create a connection between thesubject and the viewer.
Thank you, Michael!
Photos: Michael Sidofsky