Markus Scheingraber is Marketing Director of TravelMag.com. He was born in Bavaria and grew up in a small village near the Austrian border. Although he now lives in Paris, he visits Munich regularly.
When did you visit Munich for the first time?
It was actually on a trip with school when I was 12 or 13 years old. We went to a Bayern Munich football match – I still have strong memories of that event. Since that day I've been a loyal supporter.
And when was your last visit?
Just a couple of weeks ago. I quite often do a stopover in Munich when I'm returning from Paris to visit my family in lower Bavaria.
Do you have a favourite museum or attraction?
I actually haven't visited a museum in Munich for many years, but definitely plan to return to the Deutsches Museum. As for other attractions, I'm always looking for an excuse to grab lunch at the Viktualienmarkt, the biggest food market in the city. If you're looking for a physical activity, you can climb the spiral staircase of St Peter's church with its 306 steps to the top. On a clear day you can enjoy a fantastic view all the way to the Alps mountain range.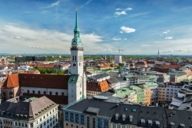 What is your favourite activity in the city?
Visiting a traditional beer garden or beer house. There's no better way to spend the evening than chatting with friends in a chilled atmosphere over Bavarian food and beer. Besides the world famous Hofbräuhaus or the Hirschgarten (the largest beer garden in the world), I personally prefer smaller spots such as The Aumeister, located at the northern edge of the Englischer Garten (park), or the Augustiner Bürgerheim in the Westend.
Which neighbourhood would you recommend visiting?
I enjoy strolling through the Glockenbach district, which is located south of the city centre. While gentrification has certainly changed the area and its atmosphere in recent years, you can still find a good number of alternative boutiques, cool cafés and bars. I also recently discovered the Westend, probably Munich's most multicultural neighbourhood, which seems to be a particularly fashionable area right now among students and young professionals.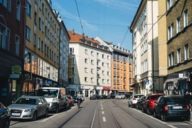 Which events can you recommend besides Oktoberfest?
If you're seeking a spring alternative to Oktoberfest, you should certainly check out Starkbierfest which is celebrated at breweries and bars throughout Munich. With the doc.fest in May and the Filmfest just a month later, Munich is also home to two of the biggest film festivals in Germany. In the summer, Tollwood Summer Festival hosts concerts by international stars, but also allows you to discover emerging national bands. And during December, you have the chance to discover the many charming Christmas markets scattered all around the city.
And finally, can you share some information about your website?
TravelMag.com is an independent digital-only travel magazine based in Paris & London, currently reaching about 5-million unique visitors per year. We currently work with about 20 travel writers who provide engaging travel narratives and city guides for destinations around the world.
Thank you, Markus!
Photos: Philipp Müller-Reinhard, istock/f9photos, Dominik Morbitzer