Many Instagrammers visit Munich and capture the city through videos, articles and photos. To get an insight into their creative work and to find out what inspired them about Munich, we have put together a questionnaire. This time, Jörg Nicht from the account @jn shares his impressions on the topic of culture and innovation in Munich.
What was the first thing you thought of when you imagined an innovative and cultural Munich?
When I thought of innovation, I thought of the car industry, but I also had technology companies and the LMU in mind. Under the keyword "cultural Munich", I primarily associated the many museums, but also the Volkstheater, which I had already visited once.
And how innovative and cultural did you then experience the city?
I experienced Munich as very innovative. It was particularly exciting for me to delve deeper into the history of the city over the past decades. From my point of view, the 1972 Olympic Games were a real innovation driver. The roof construction over the sports venues is well known, as are the infrastructure projects of that time. But there was also experimentation in housing construction at that time, as the Pharaoh House shows, for example.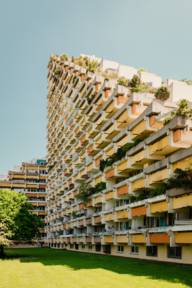 Munich is also home to the culinary world. At the same time, there are people and projects that maintain traditions and develop craftsmanship to produce high-quality products. For example, in the Kunstmühle in the middle of Munich, not only flour is milled, but bread and pretzels are also traditionally made by hand. For me, that is active cultivation of culture.
The Werksviertel-Mitte is constantly changing. What did you particularly like about it?
I was particularly surprised by Werksviertel-Mitte because it shows that the development of a new quarter can also be done sustainably. Sustainability is pursued very comprehensively in this quarter. It starts with the careful selection of tenants in order to achieve a colourful mix that not only generates high rental income in the short term, but also radiates outwards. That is why space is also offered to artists.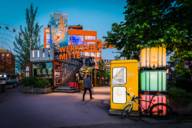 Sustainability also becomes very practical when the restaurants' kitchen waste is recycled in their own composting plant. This saves traffic and the resulting humus is reused on the premises. But sustainability also means that buildings are refurbished and not simply torn down and rebuilt. Refurbishment is by no means the cheaper solution, but above all it saves a lot of CO2.
Which three highlights or sights would you recommend to people who want to experience a dynamic, creative Munich?
The Werksviertel: Industrial history is not preserved here, but old buildings are sustainably converted into office space. Art and culture can also be found here. There is a Ferris wheel with a great view and a variety of restaurants and snack bars. There is something not only for every taste but also for every budget.
The Schlachthofviertel: On one side of the quarter, artists create installations, spray graffiti and engage in urban gardening. On the other side, animals are still slaughtered. And right in the middle is the newly built Volkstheater. Anyone can visit it without dressing up. At least that's what theatre director Christian Stückl wants. Not to be forgotten the Alte Utting – an old ship that towers over a street on an old bridge.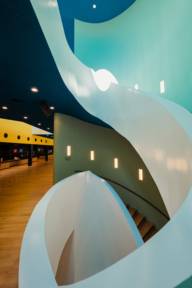 And a walk through Schwabing: the streets of this district are really busy, especially in the afternoon. Many young people sit in the cafés and restaurants. Interesting shops invite you to shop. If you have time, you can make a detour to the Pinakothek der Moderne or simply take a break from your city stroll on the meadow in front of it.
Art, culture, fashion – you experienced a great variety. What surprised you the most?
I was most surprised to find grazing sheep on an office building in Munich. And in the same neighbourhood there are also a number of graffiti. Before, I thought there was nothing like that in Munich.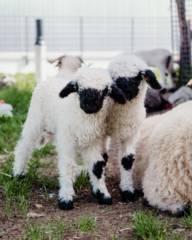 Do you know what the Bavarian saying Scheiß da nix, dann feid da nix!* means?
No. I guess I'll have to come back again to learn even more about Munich and its language.
*Scheiß da nix, dann feid da nix! means something like 'Don't worry and nothing will happen to you!'
Instagram: @jn
Photos: Jörg Nicht