Munich is visited by many influencers throughout the year who capture the city through videography, blogging and photography. To get an impression of their creative work and find out what they liked most about Munich, we provide a questionnaire. This time: Kristine and Jason Rutledge from the USA sharing their passion for travel and beer at @passportsandpints.
How had you imagined Munich before your visit?
Honestly, we envisioned Munich as "Oktoberfest" – you know; lederhosen, beer, pretzels, the works.
And how did it turn out to be?
So much more! Yes, there was that classic Bavarian feel in certain places but the drinking culture is much more convivial. There is just so much history and beauty within the city. It was easy to find things to do other than just biergartens and bratwurst.
What was the most interesting place?
We absolutely loved the Englischer Garten (park)! It was a fun atmosphere with people picnicking on the grounds, swimming in the river, the chinese tower biergarten and much more. It rained on us, but it was such a memorable experience grabbing a bier and taking shelter under a tree with locals.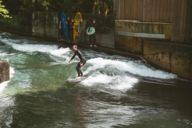 What was the tastiest food? What was the best drink?
Venison stew and dumplings at Hirschgarten. Favorite beer was the IPA at Hopfenhaecker Brewing Co.
What was your favourite moment?
As silly as it sounds, my first big pretzel (with cheese)! But in all seriousness, probably meeting a group of Irish Rugby players and enjoying liters of beer with them at Viktualienmarkt.
What did you learn?
That there are plenty of reasons to visit Munich outside of Oktoberfest.
What did you take from your visit?
A ton of photos! But really, a deeper appreciation of this beautiful city and her people.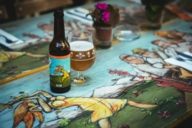 You can give your friends three tips for a trip to Munich – where do you tell them to go?
1. Take the short trip to Dachau, it is humbling and is something everyone should experience in their lifetime lest we forget.
2. Go to Hirschgarten but not in the middle of the day unless you want a quieter atmosphere. A lot of locals seem to go there for lunch when it is not as crazy. Also, they have live deer you can feed!
3. The Nymphenburger Schloss (palace) is a must-see. It has expansive gardens that you can spend the entire day exploring (and it's great for runners too). Bonus: Seek out the smaller craft breweries and taprooms – they are some excellent alternatives to the big name bier companies.
What do you want to do on your next visit?
We would like to maybe see more of the countryside. There are so many cool little towns a short bus or train ride away.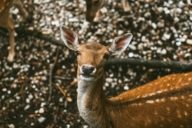 Which photo of Munich got the best response from your followers?
Anything regarding the Nymphenburg Palace. People who have been here before have fond memories and enjoy being reminded of their time at the palace.
And which photo do you personally like the most? Why?
We enjoyed our photos from the Englischer Garten because it was one of our favorite spots and was fun to photograph nature in the middle of a city.
What are your three golden tips for travelling?
1. Pack lighter than you think. Less stuff = less stress. 2. Research and understand the transit systems before you arrive to a city. 3. If it smells good, eat it!
And last but not least: What do you think people from Munich mean when they say Diridari*? Any ideas?
Not a clue!
* in the Bavarian dialect, Diridari more or less means money, especially coins.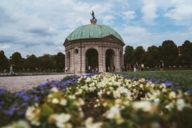 3 questions on Kristine & Jason's work
Who are you and what do you do?
We are Kristine and Jason with Passports & Pints, our blog, podcast and website. We both share travel & beer with our followers on Instagram (find us at @kruttles and @jrutled).
Where do you get inspiration for your work?
The surroundings in the moment. We are inspired by what we see – setting is everything and we try to capture that and bring it to our audiences.
What's the biggest challenge in your job?
Having a full-time job on top of our travel blogging/influencing job! The two of us work full-time in public schools and doing both can quickly add up to a ton of work!
Thank you, Kristine and Jason!
Photos: Passports & Pints