Many influencers visit Munich and capture the city through an array of videos, articles and photos. In order to gain some real insight into their creative work and to find out what they love so much about Munich, we have put together a questionnaire This time: Anita Brechbühl from Zurich, Switzerland, the face behind the travel blog Travelita.
How did you imagine Munich before your visited the city?
I had no specific picture in mind of Munich beforehand. Without giving it much thought, I imagined the city to be very spruced up and its inhabitants to be a bit stiff and reserved.
And how was it in reality?
What surprised me most was the friendliness and easy-going nature of the local population. Everywhere I went, I was met with a smile – the beautiful weather during our visit no doubt played a big part in ensuring a good mood all around.
What did you like the most?
The relaxed and happy spring mood while in the Englischer Garten (park) and the stunning mix of city squares, residential areas and shopping streets in Schwabing district.
And the most interesting place?
The Werksviertel-Mitte district! I find it incredibly exciting to think about how this former industrial area has been transformed into a new and hugely diverse district of Munich.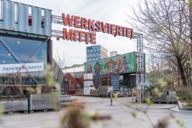 And the tastiest food? The best drink?
One of my favourites is the Bavarian spread known as "Obazda", which we enjoyed on bread at several restaurants. And I really liked Munich's strong "Märzen" lager – even though I'm not a big beer drinker in general.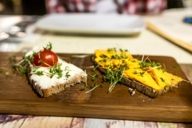 The most beautiful encounter?
The conversations I had with Brigitte von Puttkamer, who runs the Fair Fashion Store About Given and Alva Morgaine, owner of the eponymous vintage store located in the Glockenbachviertel – two inspiring ladies who have followed their passion and contributed to the diversity that characterises Munich.
And the best moment?
Soaking up the beautiful sunset at the Olympiaturm (Olympic tower) – the panoramic view from the observation deck over Munich to the Alps is simply stunning!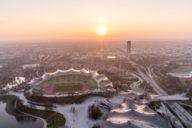 What did you discover?
I discovered that Munich, thanks to its Kunstareal (art quarter), boasts a concentrated offering of art and culture within a compact urban area and that I alone could spend at least one full day there.
What will you be taking home?
That this was certainly not my last visit to Munich.
A friend is about to make the trip to Munich and you can give them three tips – where would you send them?
In any case, to the Alter Peter (church) – the view from the tower is simply phenomenal. And then onto the impressive galleries located in the Alte Pinakothek (museum), before finally moving on to the Olympiaberg (park).
What will you be doing on your next visit?
I'll ensure to have enough time to visit the Brandhorst Museum.
Which Munich photo received the best feedback from your followers?
A panorama picture, which I took from the tower at the Church of St. Peter.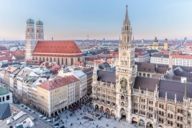 And which photo did you like the most? And why?
A photo of the glass dome found at the Pinakothek der Moderne (museum). I like the mood created by the lighting in the picture.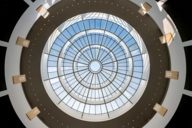 Your personal tip for the perfect holiday photo?
Personally, I like images taken from unfamiliar angles and recommend playing with different perspectives on well-known subjects.
Your three golden travel tips?
Keep your expectations low, recharge your camera batteries at every opportunity, and never lose your cool.
To finish up: What do you think the people of Munich understand by the Bavarian expression Gspusi*? Do you have any idea?
I think that it means a kind of love affair or flirtation – and if this is true, then I enjoyed a Gspusi with the city during my three days in Munich.
* in the Bavarian dialect, Gspusi more or less means a type of secret love - perfectly true, well done Anita!
3 questions on Anita Brechbühl's work
Who are you and what do you do?
Since 2012, I have been reporting about weekend trips, city trips and long-distance travel on Travelita. I want to use my travel stories to motivate typical fans of stay-at-home life to swap the sofa for trekking shoes and to explore the world with genuine curiosity. My travels always go hand-in-hand with a camera, so that I can capture the best moments for my blog readers.
What are the sources of inspiration for your work?
Inspiration comes in the form of travel-loving friends, my blog readers, great travel books, magazines and other blogs – there's definitely no lack of inspiration.
What is the biggest challenge in your job?
Not running after the "herd", but rather staying true to oneself and putting quality above quantity every time.
Thank you, Anita!
Photos: Anita Brechbühl