Fancy going to Munich, but a trip is currently not possible? - Then explore Munich on a virtual and personal live tour with your official guide of the city.
Interactively, richly illustrated and accompanied by music, we will take you on a journey and immerse you in the city's history, culture and traditions: whether on the guided tours "Typical Munich" or "Munich for Beginners", a visit to the Oktoberfest or the Christmas Market, or on a "virtual journey" to Munich's economic history(s).
Our tour guides* can also offer all tours virtually. We will be happy to advise you and find the perfect guide for your group.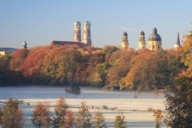 Whether as a supplement to your online meeting, a conference, a Christmas or birthday party: Enjoy an entertaining virtual time in Munich!
A voucher for a discounted city tour is waiting for you to redeem at the Tourist Information on your next visit to Munich.
We look forward to seeing you!
Photo: istock/rosshelen, Peter Hutzler
Take part!
Book this tour with München Tourismus, Guided Tours
Phone: +49 89 233 30234
tourismus.guides@muenchen.de
Duration up to 40 minutes by arrangement | Fee including a preliminary talk from 165 € plus VAT if applicable | individual wishes by arrangement with the guide at extra charge