Contemporary art thrives on exchange, vernissages in galleries are key dates in the art calendar. But the crisis was forcing all this to take a break too. Since Monday, 11.05. the Munich galleries may now open again - here three of them explain what happens after the shutdown.
Deborah Schamoni gallery
Exhibition: Flaka Haliti, "Watchu expect me to do when I lose my cool"
What's the exhibition you can't show?
A show by the Munich-based artist Flaka Haliti with the title "Watchu expect me to do when I lose my cool". But we can't exactly say we're not showing it. The preview was on 12 March. It was the very day the recommendation was issued not to hold events where possible, so the preview just took place on a small-scale. Regrettably, hardly anyone got to see the exhibition after that.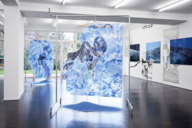 What is the exhibition about?
Flaka's work is about loss of control. What happens when we leave safe territory? Two large-format digital collages in the upper room with the titles "What to do" and "Who is going to do" show two robot figures sitting opposite each other. But instead of being active, they both remain in complete passivity, as if each is waiting for the other to take the first step.
Liquid plays a prominent part in many of the pictures. Why?
For Flaka, liquid often represents uncertain relationships. Things turn to liquid, they are no longer tangible. For example, the exhibition includes eerie seascapes that play with the liquidity of modern life and the liquid fear we are all so familiar with. It's like navigating your way through a minefield. Everyone knows there could be an explosion at any time and anywhere, but no one knows when and where it will happen – and whether it will be for the good or the bad.
Deborah Schamoni gallery
Mauerkircherstraße 186
www.deborahschamoni.com
Nir Altman gallery
Exhibition: Susi Gelb: User-defined Landscape
How are you dealing with the current situation?
Let me start with the positive: small galleries like mine have relatively manageable staff costs, which means the shut-down isn't a complete catastrophe. Plus, I am in the midst of moving the gallery to Obergiesing. There's a small art hotspot burgeoning there right now. I am very busy with the interior design at the moment, and I can continue with that in the crisis. It's of course regrettable that the planned exhibition by Susi Gelb has had to be postponed.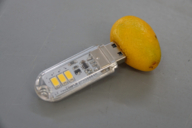 What sort of exhibition is it?
Susi Gelb is a young artist from Munich who produces some fantastic pieces. She caused a massive sensation when she planted a fully grown palm tree on the Odeonsplatz (square). Susi works at the interface between nature and technology. Her exhibition with us, which was due to open in Mid-May, is entitled: "User-defined landscape". Susi transforms the gallery space into an artificial landscape with mystical, unsettling and sensual components. It's often about a confrontation: The organic and bizarre form of a jackfruit is precisely engraved into a plexiglass disc using a laser cutter, which in the abstract is very poetic. A small,witty work cites Joseph Beuys' 'Capri Battery': the light bulb plugged into a lemon. Here, the light diode is plugged in a fresh kumquat. Susi's works always represent a small cosmos. For example, she moulds organic materials such as leaves in synthetic resin, which then partly liquefy in their shell and yet retain their shape.
What are you looking forward to most when things get back to normal?
The whole Munich scene. When I decided in 2016 to leave my home city of Tel Aviv and open a gallery in Germany, I quite consciously chose Munich. The city's art scene is not as overheated as Berlin's; there are fewer players, but then things hold more true here, it seems to me. Since a few years, there has been a small scene of young galleries, there is good networking with large institutions, plus we have the Academy. Most importantly, there is little envy and a lot of camaraderie. And everyone knows everyone else. I am looking forward to seeing everyone again.
Nir Altman gallery
Alpenstraße 12
www.niraltman.com
SPERLING
Exhibition: Malte Zenses, Im Regio 3, totale Verwirrung
How has the shut-down affected you?
Not too badly, really. At the beginning of May, we should have had an exhibition by a young painter from Berlin: Malte Zenses. His paintings seem very abstract at first glance. Often, you see only coloured areas and streaks. Then there are isolated figurative motifs again: an open book or a globe.. But you can't really mentally process what it's all about. The images are based on a sort of diary of drawings by Malte, often featuring dark events. In it, he develops an abstract code which you at a certain point sense, but never quite get to the bottom of. But that's not at all what it's about either. Because although they seem sparse, the works convey a feeling that is difficult to describe when you're standing before them. Your view is directed inwards: the images acts as a sort of mirror. It really draws you in.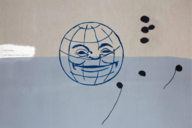 When will people be able to see the exhibition?
I and many of my colleagues are working on the basis that we will slowly be able to open our galleries again from mid-May to end-May. Not to the wider public, however. We don't expect to see previews with people standing shoulder to shoulder before 2021. "Soft Opening" is a phrase doing the rounds everywhere just now. It means: when we open, it won't just be concentrated over a few hours; it's more likely to be extended over a few days so that we don't have too many people in the gallery at any one time. I can actually really see a lot of positives in this solution. During a traditional opening, you often only get a few minutes to speak to people.
How will you spend the time until then?
I started by doing all those things that never got done in the past months, and made plans for when the coronavirus was over. And we installed a small online crisis program on our website: each day, we show a picture from our archive. Because I can work from anywhere at the moment, my wife and I headed to Holledau. Her parents grow hops, and because there are fewer seasonal workers around this year, we're helping out with pruning, so staking up the young hop plants.
SPERLING
Regerplatz 9
www.sperling-munich.com
Interviews: Phaul-Philipp Hanske; Photos: Nir Altman gallery, Deborah Schamoni gallery, Sperling gallery