Take a flight through 7,000 years of Bavarian history – with Time Ride. VR technology allows visitors to experience two of man's big dreams at once: time travel and flight.
Given the chance to pick super powers, there are two favourites – the ability to fly, and to travel back through time. Now you can do both thanks to Time Ride's VR technology, and learn about Bavaria's history at the same time. Let the adventure begin: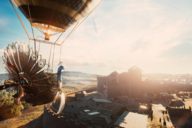 The whole experience lasts around 45 minutes, and is split into three sections. Visitors start out in a library where, amidst antique books, a short film explains the key stopping off points on their virtual journey through time. King Ludwig II would have loved the journey through time that follows: the opulent chariot drawn by peacocks that serves as the adventurous flying machine was his idea.
Equipped with VR glasses, passengers fly over the whole of Bavaria, soaking up breathtaking landscapes and historical moments over 7,000 years, from the first human settlers to the fairy-tale king himself. Highlights include flying over the Limes at sunset, which in ancient times separated the Roman empire from the Teutons. Mediaeval Regensburg, with its 12th century stone bridge, is also on the itinerary. It still stands today as the oldest surviving bridge in Germany. Add in vibrations and an air stream to create a real sense of motion, and this journey through time becomes a truly unforgettable experience.
Once the flight simulation has passed over the Free State of Bavaria, visitors can look forward to a glimpse behind the scenes that explains how Time Ride Munich came into being. Visitors can also delve more deeply into particular stops or eras – given the adrenalin levels on a flight like this, it's easy to miss the details after all.
Opened in September 2019, Time Ride uses virtual reality to take visitors on a journey though time across the Free State of Bavaria. Take this amazing trip and see history from a very different perspective.
Photos: Chr. Rudnik; TimeRide