Located in the heart of the old town, Viktualienmarkt used to be a farmers' market. These days, it attracts epicures and foodies, who find everything they could dream of and more – from traditional Bavarian delicacies to more exotic produce.
Up to the early 19th century, the people of Munich would go to the neighbouring Marienplatz to purchase their supplies of grain, fruit and vegetables, fish and eggs. At that point, however, the size of the market began to burst at the seams; so, in 1807, King Max I Joseph commanded that the area between Heiliggeist Church and Frauenstrasse be used to sell produce.
And so the market had a place of its own, a square which at the time was known as Marktplatz (meaning market place or market square). The word "Viktualien", taken from the Late Latin word for food, was not added until later.
By the years 1823 to 1829, the market was already in need of additional space. A number of other features were also added later down the line, like a hall for selling tripe, pavilions for fruit sellers and a separate hall for selling fish caught from the North Sea. By 1890, the Viktualienmarkt had reached the size of the present-day market.
If you stroll around Viktualienmarkt today, you are sure to spot a few true Munich legends: the people of Munich have built a series of fountains featuring statues to commemorate the folk singers and comedians Karl Valentin, Weiss Ferdl, Liesl Karlstadt, Ida Schumacher, Elisa Aulinger and Roider Jackl.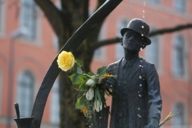 As well as a church, you will find one of these maypoles in every village in Bavaria. They are normally painted in the state colours of white and blue and feature various images depicting local craftsmanship and village life.
Standing in the middle of Viktualienmarkt, you will find an authentic Bavarian Maibaum.
However, if you want to see a traditional Maibaum in Munich, you don't need to leave the city gates but simply stroll over to Viktualienmarkt.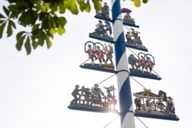 The presence of the Maibaum in the market is all thanks to a comment made by former mayor of Munich, Albert Bayerle. Because Munich is known as a "village of millions", the third mayor of the Bavarian state capital (who held the post between 1960 and 1972) believed that the city should have its own Maibaum as well. In response to his remarks, Munich's breweries donated the first Maibaum on Viktualienmarkt in May 1962, though this has since been replaced several times.
The groups of figures reflect aspects of life in Munich: a horse and cart transporting barrels of beer, scenes from Oktoberfest, the Schäfflertanz ("the dance of the coopers"), musicians and dancers, women serving beer, the flag of Munich, and the two patron saints of brewing, St. Boniface and St. Florian.
Photos: Christian Kasper, Sigi Müller, Frank Stolle; Video: Redline Enterprises