There are lots of wonderful flea markets in Munich – from the giant flea market that takes place once a year on Theresienwiese (Oktoberfest fairground) to the antique market in Daglfing, which you can visit every weekend. Particular highlights include the night-time flea markets and yard sales!
Night-time flea markets in Munich
The best-known night-time flea market in Munich is Midnightbazar, which takes place every fortnight on Saturday evening at Backstage. It runs from 5 pm to 11 pm: not only can you browse the stalls, there is also a beer garden, food trucks and live music. Fashion enthusiasts in particular are sure to find something to their liking here – but everyone is guaranteed to enjoy a fun evening. Midnightbazar regularly attracts as many as a hundred stalls, spread over a surface area of 2,500 square metres.
For dates and details, see: www.midnightbazar.de
Giant flea market on Theresienwiese
Munich's biggest flea market is the Riesenflohmarkt ("Giant Flea Market"), which is held every spring on Theresienwiese. Buyers and sellers have travelled from far and wide for over 30 years to be involved in this spectacle at the end of April: the bargaining, chatting and browsing goes on until late in the afternoon. Be careful not to lose sight of your companion – with 1,600 stalls and countless aisles, it's easy to get lost.
For dates and details, see: www.brk-muenchen.de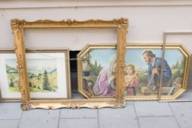 Yard sales in Munich
One real highlight every summer are the yard sales: often held in the rear courtyards of apartment buildings, these small-scale flea markets not only give you the chance to look out for interesting stuff, they're also a great way to discover Munich's charming neighbourhoods. From the end of April to the end of November, events take place almost every weekend in various parts of the city – from Maxvorstadt to Thalkirchen. You can find out where they're happening either online or simply by looking out for the colourful balloons hanging out in the street. Residents sell their second-hand wares directly from their own garden, rear courtyard or garage. In addition, there will often be home-made cake, cool drinks and nice conversation to enjoy, too!
For dates and details, see: www.hofflohmaerkte.de
Flea market at the Olympiapark (Olympic Park)
For many a Munich flea market enthusiast, the flea market held in the expansive parking area at Olympia Park (Parkharfe) is the ultimate choice. Locals and newcomers, private individuals and professionals all come together at this 35,000-square-metre site. Whether a snowboard that is still in its original packaging or an antique chest of drawers – you will find just about anything here, and most of it at reasonable prices, too. In between the rows of stalls, there are sausage stands where you can grab a snack. The flea market at Olympiapark usually takes place on Fridays and Saturdays from Park Block 5; however, it won't be held in the summer of 2022 due to the 50 Years of the Olympics events.
For dates and details, see: www.brk-muenchen.de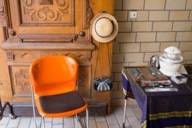 Book flea markets in Munich
When the stalls are set up twice a year at the Isarboulevard on Widenmayerstrasse, you know it's time for the LISAR book flea market again! It feels a bit like being on the River Seine in Paris, strolling along the street and coming across books of all kinds – from art books and crime novels to children's storybooks and cookery books. Catering is usually available and there are often literary readings, too. So be sure to make a note of the next date: in early summer and in autumn – always between Maximilianstrasse and Prinzregentenstrasse!
For dates and details, see: buecherflohmarkt-lisar.com
Antiques and flea market in Daglfing
The ambience here is unique: a sprawling antiques and flea market is held on the grounds of the horse racetrack in Daglfing every Friday and Saturday (except public holidays). Daglfing is located on the outskirts of the city, but there are plenty of parking spaces on site so it is easy to get out there by car, though it is just as straightforward to take the S-Bahn (rapid transit train), U-Bahn (underground) or bus. The great thing about Daglfing is that there is an indoor antiques centre and restaurant, so you can enjoy browsing whatever the weather!
For dates and details, see: flohmarkt-daglfing.de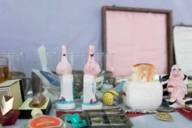 Krims & Krams at Bahnwärter Thiel
For those who prefer something a little more alternative, Bahnwärter Thiel in Schlachthofviertel is the perfect choice: depending on the season, the stands are either set up indoors under disco balls or outdoors between brightly painted shipping containers. In the summer, the Krims & Krams flea market is also an open air festival: the bar sells drinks, there's music playing, and dancing is allowed, too! Here, locals sell their prized possessions, clothing is particularly welcome – but fur is strictly forbidden here! You can be sure to find unusual costumes, art and props. And the flea market is perfect for late risers: the starting time is always 2:00 pm.
For dates and details, see: www.krimsundkrams.com
Riem flea market
Bavaria's biggest open-air flea market is the one in Munich-Riem. It started life in 1993 and is currently held every two weeks on Saturdays. The open-air sales area here extends over a surface area of 75,000 square metres. One particular highlight of the Riem flea market: it's easy to get there by public transport – but there's also parking at the exhibition centre. And the flea market goes until 3:00 pm – great for those who prefer to arrive a little later.
For dates and details, see: www.flohmarkt-riem.com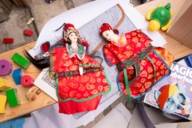 Auer Dult
This is not a flea market as such, but if you're looking for antiques, unusual one-offs and historical photos, you're very likely to find what you're looking for at the Auer Dult. Three times a year, the Dult ("traditional fair") takes place on Mariahilfplatz in the district of Au – and was originally founded in 1799! In addition to rides, pottery and food stalls, there are four sales aisles with dozens of antique stalls, too. These offer everything from Biedermeier-style furniture and cool vintage lamps to old books and antique costume jewellery.
For dates and details, see: www.muenchen.de
Text: München Tourismus; Photos: Frank Stolle