What could be better than having a coffee break in one of the long-established cafés in Munich after a sightseeing or shopping tour? No matter whether you prefer to enjoy your coffee and cake on a roof terrace with stunning views, in rooms full of history or even in an antiquarian greenhouse – you have the choice!
Café Glockenspiel
Marienplatz 28
Guests at Café Glockenspiel are spoilt for choice when they have to decide where to sit. The café is actually split into two areas: While the restaurant offers wonderful views over Marienplatz (main square) and the Glockenspiel in the Neues Rathaus (town hall), you can also sit outside in the rear section of the café when the weather is fine.
The roof terrace provides a direct view of the Alter Peter, the tower of Munich's oldest church.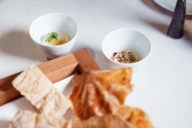 Café Luitpold
Brienner Strasse 11
Café Luitpold is an old-etablished institution in the Brienner Quartier. When it opened in 1888, Café-Restaurant Luitpold in Munich was much more than an average café. It was an architectural masterpiece and one of the largest coffee houses in Europe.
Back then, Café Luitpold was one of the most important meeting points for Munich's high society. Artists, authors and free thinkers went in and out on a regular basis. Here in 1911, Wassily Kandinsky and Paul Klee are said to have founded the Blue Rider (Blauer Reiter) artists' group.
Since an extensive renovation in 2010, the traditional café has been returned to its former glory, serving guests classic specialities like home-made cakes, pastries, biscuits and pralines, as well as dishes for fine dining. The kitchen has been repeatedly rewarded by the Michelin Guide.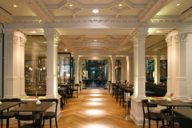 Schlosscafé im Palmenhaus
Schloss Nymphenburg 43
It is worth visiting the Palmenhaus just to experience the surroundings: The café is housed in a former greenhouse and is therefore always full of light. If the sun is shining, then the terrace is a lovely spot to sit and enjoy the enchanting atmosphere of the captivating palace garden.
When it comes to the menu, the restaurant blends modern cooking with traditional cuisine: Whether you're here for brunch, a la carte dining, cakes, pastries or speciality coffee: The selection is various!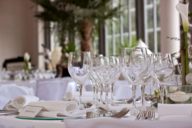 Stadtcafé
Sankt-Jakobs-Platz 1
The Stadtcafé in Münchner Münchner Stadtmuseum is an insider tip for all those who want to take a break from the tourist flow but yet spend time in the heart of the old town.
In nice weather, you can sit outside on the large terrace, which boasts views of Sankt-Jakobs-Platz with the Ohel Jakob synagogue and the Jüdisches Museum. If you prefer a more peaceful and quiet area, take a seat in the Stadtmuseum's shady inner courtyard.
Inspired by the Stadtmuseum's exhibition "Typically Munich", the café serves daily specials as well as classic Munich dishes like Wirsingschnupfnudeln with salad (a dish of savoy cabbage with a type of thick noodles made of potatoes, flour and eggs) or Wollwurst sausages with a Bavarian cabbage.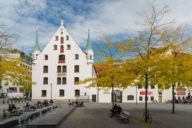 Café Frischhut / Schmalznudel
Prälat-Zistl-Strasse 8
Right at the Viktualienmarkt (food market) you can find a café, which is better known to some locals under its nickname "Schmalznudel". The Café Frischhut has been around since 1973 and serves Schmalznudeln, also known as Auszogne. The sweet consists of a yeast dough, which is baked crispy in hot lard. You get coffee in cups with old German lettering which makes you feel as if you are sitting in your granny's kitchen. Inside, cosy wooden tables invite you to take a break, but you can also sit in the sun in front of the café or in the courtyard – a perfect place for taking a breather after a walk across the Viktualienmarkt.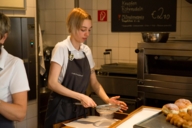 Café Ruffini
Orffstrasse 22-24
In the 1970s, the Café and Bar Ruffini in Neuhausen was a popular meeting place for left-wingers: A colourful group of students and activists founded the café, where everyone involved in society was allowed to have a say in matters. Today, the Ruffini is known beyond the neighbourhood for its delicious cakes, wonderful coffee and large selection of Italian wines – both to drink on site and to buy in the shop.
By the way: mobile phones are not allowed in the café. If you want to immerse yourself in Munich's time-honoured café scene, you'll probably have to live with not being able to document it on Instagram every now and then.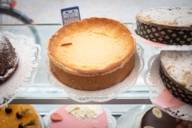 Konditorei Café Wiener
Rumfordstrasse 7
This institution has been around since 1960, but recently the operators Johanna Wallner and Rainer Wiener had to move from Reichenbachplatz to Rumfordstrasse – so the new café is only a stone's throw away from the old one, which especially pleases the regulars. Delicious cakes are served with good old filter coffee, reminiscent of grandma's baking skills and nostalgic. But the confectionery doesn't only attract senior citizens, young and old meet here, which is not only due to the charm of the rooms, but also to the fact that the café is located on the hip Gärtnerplatz – all around are cool design boutiques, trendy bars and cafés that prefer flat white to filter coffee. The only thing some people still have to get used to is the owner's grumpiness, but that goes down well with a delicious piece of Bienenstich.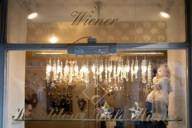 Café Jasmin
Steinheilstrasse 20
It's said to be Mick Jagger's favourite café when he's in town with The Rolling Stones: Café Jasmin in Maxvorstadt with its velvet green armchairs, golden chandeliers and Formica tables. The interior is listed as a historic monument; you can sit here since 1954 and forget about time, because it's simply incredibly cosy. What hasn't stuck in the 1950s is the selection of food and drinks: the breakfast and lunch menus are varied, with some vegan options and various milk alternatives. The café is best known for its great selection of cakes – Jagger's sweet tooth sends his regards – and the delicious drinks in the evening, when the lights are dimmed and you gently slip from coffee bliss into an elegant bar atmosphere.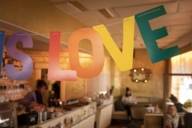 Text: München Tourismus; Photos: Christian Kasper, Frank Stolle