Freising's Altstadt (old town) is located at the foot of two hills. One of these hills, the Domberg, is the site of the cathedral in which Pope Benedict XVI was ordained in 1951; perched atop the other is the former Weihenstephan Abbey, a Benedictine monastery that boasts one of the oldest breweries in the world.
Founded in 739 A.D., Freising is the oldest town in Upper Bavaria. The prince-bishops of Freising ruled from the Domberg for more than a millennium, starting with Frankish travelling bishop Corbinian who became the first bishop and later patron saint of the diocese. According to legend, when Corbinian was attacked by a bear as he crossed the Alps, he managed to tame the wild animal so completely that it eventually carried his luggage willingly. The bear can still be seen on the town's coat of arms to this day.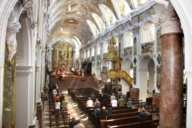 The Romanesque cathedral, with its four-nave crypt and Bestiensäule ("pillar of beasts"), was given a Baroque makeover by the artist Asam brothers in the 18th century and is still one of the town's key attractions, along with the prince-bishops' Residence (town palace) that surrounds it and the Diözesanmuseum (Diocesan Museum).
However, Freising is not known only for its ecclesiastical history, and picturesque old town with magnificent Burgher townhouses and craftsmen's houses. Freising's universities, focused on nutrition, land usage and the environment, have institutes dotted around the ruins of the Benedictine abbey on Weihenstephaner Berg.
Among the many sites of interest in Weihenstephan are the show gardens of the Weihenstephan-Triesdorf University of Applied Sciences and the Bräustüberl traditional Bavarian restaurant which is part of the Weihenstephan Bavarian State Brewery, one of the oldest breweries in the world.
Freising's close links with Munich's history date back to the birth of the city: Bishop Otto of Freising, who was perhaps the most famous philosopher of history in medieval times, became involved in a dispute with Heinrich der Löwe – Henry the Lion, Duke of Saxony and Bavaria – concerning the rights to tolls from the salt trade.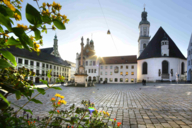 The Lion burned down the trade bridge across the Isar river in the Bishop's jurisdiction virtually overnight, thereby monopolising the revenue from the salt trade by diverting salt wagons across the Isar at the point where Munich's Ludwigsbrücke (Ludwig bridge) stands today. In his "Augsburger Einung" ruling dated 14 June 1158, Emperor Barbarossa sanctioned Henry's actions, but also compelled the Duke to pay one-third of all the revenue to Freising.
It was the first document to record Munich as a name, and the date on which it was issued is considered the birth date of the City of Munich.
Tip: Freising is situated 40 kilometres north-east of Munich, just beside Munich Airport. The town is located within easy access of Munich, a mere 45-minute train ride away on the S-Bahn suburban railway (Line 1).
Text: München Tourismus; Photos: Rainer Lehmann