From sightseeing to shopping – there are lots of apps that can make your trip to the city even more enjoyable. We have collected 24 Munich apps that provide very straightforward guidance for you: find your friends at the Wiesn with the Oktoberfest app, use the Weiße Rose app to read original documents relating to anti-Nazi resistance, or hire an electric scooter with the MVG app.
Sightseeing & Excursions
story2go München
From Hofbräuhaus (beer hall) to insider tips – the audio guide app story2go München guides guests through the city on two different tours – spoken by what is probably the most likeable voice in Munich: that of Luise Kinseher!
Komoot
For anyone who likes cycling or mountaineering, Komoot is a must. But the tour planning app is very helpful in the city, too – it's great for tracking our city walks through Munich, for example.
Mavin Guides
The app Mavin Guides enables you to go on alternative, self-guided tours – and you can choose between Street Art Hall of Fame", The Best Photo Motifs and Fröttmanning – Forgotten Worlds!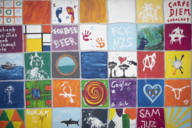 Weiße Rose
If you want to find out more about the resistance movement during the Third Reich, get the app Weiße Rose: developed by students at LMU Munich, it enables you to take virtual tours of the university building and read original documents.
Locco
Discover Munich on your own and listen individually to stories about the sights that really interest you: This is possible with Locco, the personalized and location-based tour guide app.
BLZ in Aktion
The app of the Bavarian State Agency for Civic Education takes users on digital rallies to places in Munich that are particularly European.
Mobility
MVG Fahrinfo München
MVG Fahrinfo München not only tells you quickly how to get where you're going, you can also use it to buy the right ticket for the S-Bahn (rapid transit train), U-Bahn (underground), bus and tram. The app also has all the latest updates on current construction sites!
MVGO
The MVGO app gives you access to all the sharing schemes offered by the Munich public transport corporation MVG and its partners – from MVG bikes through to e-scooters and e-mopeds provided by TIER and Voi. The digital map shows all the available vehicles at a glance.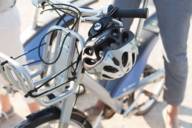 Call a Bike
Another major bike-sharing provider is Deutsche Bahn: DB's Call a Bike app gives you easy access to any of the 13,000 bicycles throughout Germany – for a maximum of nine euros a day!
Taxi.eu
Since there is less public transport in Munich at night, the taxi app is an absolute must. Like everywhere else in Europe, you can see where the car is in real time, find out the price and journey time in advance and make cashless payments right away.
HandyParken München
A must for car drivers: With the HandyParken app, you not only save yourself the trouble of looking for a parking ticket machine, you also only really pay for the time you've parked and, above all, it's cashless!
Sustainability
RECUP
Enjoy take-away food and coffee without causing waste – it's easy in Munich with the RECUP reusable system. The app tells you which shops are participating and where you can return cups or bowls.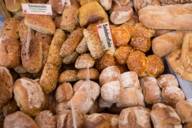 Too Good to Go
Save food and save money at the same time – with the Too Good to Go app. You can use it to get surprise bags containing leftovers from Munich cafés, restaurants, supermarkets and bakeries.
Findeling
If you're looking for small, individual stores, you're guaranteed to find what you're looking for in Findeling. Sorted by district or category, it gives you great addresses for fashion, interior deco, souvenirs and unique items.
Gastro, Shopping & Events
Naer
The app Naer gives you not just fascinating insights about the local neighbourhood but also details of special offers and promotions – anything from a small concert to a fine meal at the restaurant next door.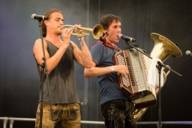 Rausgegangen
If you want to know what's going on in Munich today, get Rausgegangen: this app not only shows you selected daily tips provided by the team of editors, it also features all the events in Munich in the days to come – sorted by category.
WasgehtUP
The WUP app helps you plan your evening and gives you a good overview of Munich's club scene - in addition to the description of the event and information on the admission price, you can also see the location on an integrated map.
Oktoberfest
Visiting Munich during Oktoberfest? If so, the Oktoberfest app is an absolute must! Here you'll find all the news, information and dates – plus a digital map of the grounds complete with friend finder. Amazingly useful!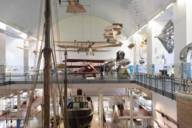 Kunst & Kultur
Schlosspark Nymphenburg
The app Schlosspark Nymphenburg offers pictures, films, audio documentaries and texts in German and English for 23 stations throughout the palace grounds – including three suggestions for tours through the park and games for children.
Deutsches Museum
The Deutsches Museum app enables you to find your way around the world's biggest science museum with ease thanks to a digital map, including a tour guide and audio guide to help you find your way through the exhibits. In addition to interactive hands-on activities, you also get information on the programme of the day!
BMW Museum
For all motorsport and design fans: the BMW Museum app guides you through the museum sections with audio guides featuring video clips. In addition, you can compile your own personal tour before you go to the museum.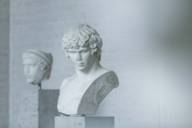 Museum für Abgüsse Klassischer Bildwerke
The Museum für Abgüsse Klassischer Bildwerke (Museum of Casts of Classical Statues) also has an app with an audio guide, a map of the building and the current calendar of events. You can also use the reality app Lebendiger Gips ("Living Plaster") to help you create works of art of your own.
Glyptothek
The media guide in the Glyptothek app takes you on four different virtual tours of the museum in 60 to 270 minutes – plus information and intriguing backgrounds stories packaged as text, video or audio file.
Inside MPHIL
Tickets sold out for the Munich Philharmonic? No problem: this app means you can enjoy virtual performances by the orchestra on the lawn behind St. Nikolai Chapel next to the Gasteig (cultural centre).
Text: München Tourismus; Photos: istock/rosshelen, Frank Stolle, Christian Kasper