Schloss Nymphenburg (palace) had already made its name across Europe by the 1700s. As a royal summer residence, it was originally a retreat for the royal court of Munich.
Elector Ferdinand Maria had the palace built as a gift for his wife Henriette Adelaide of Savoy following the birth of their long-awaited son Max Emanuel. Building work started in 1664. Though difficult for us to imagine now, back then Nymphenburg was surrounded by fields and a two-hour journey from the Residenz (town palace) in Munich. Nowadays, it is a green oasis open to everyone and located right in the heart of the city.
The master builders Agostino Barelli and Enrico Zuccalli originally designed Nymphenburg as a baroque palace. Its rococo and neoclassical elements were not added until later on. The centre of the castle is the "Steinerne Saal" with its cycle of frescoes framed by luxuriant rococo stuccoes. On both sides of the Stone Hall are the princely living and reception rooms.
The palace grew again to reach its current size under the reign of Elector Max Emanuel (1680 to 1726). A tour offers visitors the chance to glimpse the room in which King Ludwig II was born as well as King Ludwig I's world-famous Schönheitengalerie (Gallery of Beauties). Joseph Stieler painted a total of 36 women from all social classes on behalf of the king. Among them are for example the daughter of a master shoemaker, Helene Sedlmayr, and the dancer Lola Montez, the king's mistress.
Classical concerts are performed in the Hubertus Hall in the Orangery tract of Nymphenburg Palace on selected days, which are very popular with Munich residents and guests of the city.
A walk through the palace park
Nymphenburg is not just home to the Bavarian royal family's lavish palace; the grounds also include a large park containing unique water features, an extensive selection of sculptures and unusual pavilions.
Over the years, the original baroque flower gardens underwent numerous changes and expansions up until the 19th century, when they became the English-style gardens they are today. Their picturesque design was created by the famous landscape gardener Friedrich Ludwig von Sckell.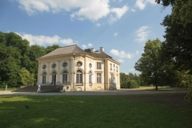 If you are interested in visiting the pavilions, we recommend planning a long walk through the palace's 200 hectare park. Thanks to their symmetrical layout, it is easy to explore the Badenburg pavilion and its magnificent swimming pool, the Asian-inspired Pagodenburg, the Magdalenenklause (a building designed to resemble an artistic ruin), and the Amalienburg hunting lodge.
Good to know: Munich Card holders are entitled to a reduced admission fee. If one owns the Munich City Pass, the entrance is free of charge. No matter which card you choose, the public transport is included. Are you interested in a guided tour? Click here for more information.
Photo: Rainer Viertlböck (1); Frank Stolle (2)