Holidays in Munich are finally possible again. Here you will find current information about the coronavirus and your stay in Munich.
Welcome back to Munich! Since May 30, holidays in Munich are finally possible again: Hotels and guesthouses can welcome guests, museums and galleries are re-opened, guided tours are available, and gastronomy is allowed to serve guests inside and outside again. We look forward to seeing you back in Munich!
What is open again:
Museums, galleries and exhibitions have been open again since 11 May, the zoo is also open again. It is recommended to check the opening hours online before a visit, if possible tickets should be bought online in advance.
Munich's restaurants, beer gardens and cafés are also open again. Since 25 May, guests can be served inside and outside again. Bars and clubs will remain closed for the time being.
Since 30 May, hotels and guesthouses as well as camping sites are open again, since 22 June also saunas and indoor swimming pools.
Participation in guided tours of the city, bus tours and visits to the Residence or the Royal Castles are also possible again.
Leisure facilities such as botanical gardens, zoos and fun parks, escape rooms and similar facilities may reopen indoor and outdoor areas.
Since 8 June Munich's outdoor swimming pools are also re-opened. Indoor swimming pools are open since 22 June. Contactless individual outdoor sports (e.g. golf, horseback riding, tennis) are also permitted again,
Since 15 June, theaters and cinemas can also re-open, concerts and cultural events with up to 200 guests inside or 400 guests outside can also take place again.
Professional or business events such as conferences and congresses are admitted under the same conditions as cultural events.
Since 22 June, assemblies may be held again, including weddings and other celebrations, with up to 100 people indoors or 200 people outdoors. The permitted number of persons will be reduced to 25 (indoors) or 50 (outdoors) as of September 24 until October 1.
Markets without a festival character (e.g. traditional arts and crafts markets, pottery markets, flea markets) are permitted outside again, provided that the hygiene measures are observed.
Public festivities or celebrations open to a larger general public remain prohibited. The ban on major events will remain in place until 31 October 2020.
Download: Information for your stay (PDF)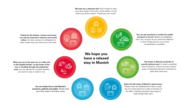 What you have to keep in mind:
Wearing a mouth and nose protection is mandatory on public transport as well as in all shops, museums, galleries, exhibitions, etc. It is also obligatory within restaurants, beer gardens and cafés as long as you are not sitting at the table. The mask obligation will also apply from September 24 on to October 1 in the city center at Marienplatz, Viktualienmarkt and the pedestrian zone in the Old Town.
The previous hygiene and prevention regulations continue to apply: Please maintain a safety distance of at least one and a half meters from other people. You should also follow the cough and sneeze etiquette and wash your hands several times a day.
In Bavaria there is a loosened contact restriction in force. It is permitted in private and public spaces to visit the closer family; several members of two households or groups up to 10 persons may also meet. The permitted number of persons is reduced to 5 as of September 24 until October 1.
There is a night-time ban on alcohol in some public places in Munich over the weekend. The exact regulations and places and whether the ban is currently in force can be found out at muenchen.de.
What else is important:
Major events cannot take place until at least 31 October. The Oktoberfest has also been cancelled for this year. Please check the websites of the organizers and institutions to see if visits are possible.
The Tourist Information at City Hall / Marienplatz has been open again since 30 May. The Tourist-Information at the main station has been open again since 25 July. The guest service can still be reached by telephone Monday to Friday 9 am to 5 pm on +49 89 233 96500.
There may still be cancellations or delays in travel traffic at short notice. Please inform yourself directly on the website of the respective airline or Deutsche Bahn. Munich Airport provides general information for air travelers.
If you have acute questions about the coronavirus during your stay in Munich, please contact the Coronavirus Hotline of the City of Munich: +49 89 233 44740
Information on Corona in Bavaria in other languages is given on www.br.de
Further information:
Seven graphics from arrival to departure
Photo: Thomas Klinger