A good cure for homesickness: new arrivals talk about where to find a taste of home in Munich. Episode 1: Italy. Lorenzo Greco from Bassano del Grappa near Venice, on the rules for ragout, the perfect pizza crust and deterrent set-ups.
"In Italy, we recognise a good restaurant from its deterrent set-up – the white plastic chairs are supposed to scare away the tourists. That is why, even in Munich, I haven't the heart to go to a stylish Italian. I'd rather head to Dal Cavaliere (Weißenburgerstr. 3) in Haidhausen, with its shabby-cool brown benches. When the waiters all start shouting at the same time, I feel right at home.
I especially recommend the pasta with beef ragout (Il Ragù Napoletano Come La Mamma). In Venice, we make this dish with duck and a different type of pasta: bigoli. But this version is almost exactly as good.
"The espresso is perfectly fine, but above all you can drink it standing up here - just like in Italy."
With Ragù Napoletano, it is important to make sure that the pieces of meat are the same size as the meat in a goulash (the pieces are rather small in other types of ragù) and that they are left to simmer in the tomato sauce for long enough. It's also important to have pasta that absorbs the sauce particularly well. I prefer the pasta at Feinkost Spina (Maria-Probst-Str. 49), Eataly in the Schrannenhalle (Blumenstr. 4) also has a good selection.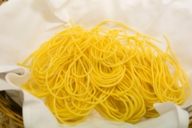 There, at Pizzeria Rossopomodoro (Viktualienmarkt 15), you also get the best pizza in town. And I'm particularly strict about pizza: I like it best in the Neapolitan style with a thick crust and thin base. It shouldn't be too big either and should weigh no more than 300 grams so that it doesn't overwhelm you. And of course, all the ingredients have to be fresh.
For the espresso afterwards, I recommend Bar Centrale in the old town (Ledererstr. 23). The espresso is great, but most importantly, you can stand as you drink it – just like in Italy. Emilo at Gärtnerplatz (Buttermelcherstr. 5) also does great, low-acid coffee. And of course, you have to finish off with a gelato. The best place to go for that is Jessas ice cream parlour in the Glockenbachviertel (Klenzestr. 97). The ice cream there has a great, creamy taste, and above all, the place is open until 11 p.m. – which is when we really get started on ice cream in Italy.
Wine can also be a tricky one: at home, I prefer to drink a glass of the house wine for two euros, but you can't get the same quality here. If you're looking for something special, I recommend Bergwein on Gärtnerplatz (Corneliusstr. 18) – they have great wines from South Tyrol."
Text: Nansen & Piccard; Photos: Frank Stolle