Floral decorations can turn events into an exquisite experience. But what about the ecological footprint? Two floral designers from Munich explain what lies behind their job, and also how aesthetics and sustainability go together.
Juliane Spaete and Nora Khereddine, the Flower Power Festival currently taking place in Munich is also concerned with how people can sustainably interact with the nature that surrounds them. You're experts in the power of flowers and work as floral designers for both individual customers and, above all, events. How important is sustainability to you in your designs?
Spaete: For us personally, sustainability is key. We think about it a lot and try to work as sustainably as possible. This topic is becoming more and more visible right now – rightly so – and there's a lot moving forward. But it's also clear that it's really not that easy to make comprehensively sustainable choices with flowers and floral design in general.
Khereddine: The floral industry has a complicated structure. Even if you study it in depth, it's not easy to see through it. Numerous aspects come together when you're talking about sustainability: Where are the plants grown? What chemicals are used? What are the working conditions like? How are the plants transported? How are they packaged? Paper is being increasingly used as packaging material.
What role does regionality play?
Khereddine: A decisive one. The realization that flowers that come from Kenya or Colombia in winter don't have the best CO2 footprint is becoming more and more widespread. However, it'd also be a fallacy to believe that flowers from Europe are always better in this respect. If they are grown in greenhouses in the Netherlands in winter, the footprint may be worse than if they are shipped in from overseas.
Spaete: Seasonality is a much more important issue than the mere proximity of production. Flowers and plants that are in season are, per se, more sustainable than those grown or imported outside their local season. Taking seasonality into account and working with it is one of the most appealing aspects of what we do.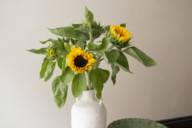 Which seasonal plants do you like working with best?
Spaete: Perhaps we first have to explain how we actually work. We're not conventional florists, but see ourselves as floral designers. In other words, we want to break through the boundaries of conventional floral design, i.e. not always doing the usual tight spiral binding with the same greenery around the flowers. We do like to work with greenery, but in a different way – tying the flowers asymmetrically, letting the blossoms, colors and shapes speak for themselves. And there are great seasonal possibilities. For example, I love mimosa, those fluffy little yellow flowers available in late winter. In late spring and summer, there's more than enough seasonal choice anyway. But then you can buy sustainably as well. The key term here is the slow flowering movement, which only focuses on the seasonal and organic cultivation of cut flowers. However, it has to be said that this trend has unfortunately not reached the wholesale trade yet.
Khereddine: There are no limits in summer. But it's interesting to note that there are many plants in fall and winter that are also good from a sustainability perspective. You just have to maybe move away a bit from conventional visual habits and the idea of blossoms. In fall, for example, there are loads of berries, and in winter twigs and capsules. You can make fantastic things out of all that.
Has sustainability caught on with customers from the MICE industry?
Spaete: That depends on the customer – and on the concept they have for their event. Some customers have very specific ideas about what they want – what flowers, what colors, what shapes. The decisions are taken at their headquarters, and they want them to be implemented in a high-quality manner. If we can do it sustainably, that's fine with them, of course – but it's not the focus of their interest. And then there are customers with a rather vague idea, which we fill with life. We then have more freedom and can, of course, win over such customers with more sustainable concepts.
Recently, for example, we had a spirits producer who markets whiskey aged in rum barrels. They wanted something on a Caribbean theme. Instead of working with the very obvious and well-traveled palm trees, we used ferns and colorful cockscomb to build sculptures, such as a kind of waterfall. That went down very well. We also used gerberas, which are also grown in greenhouses, but at least didn't have to travel far. Gerberas are generally very interesting. On the one hand, many people have a problematic relationship with them because they are considered to be ordinary and boring due to their being the main component of traditional gas station bouquets. But the fascinating thing is that there's an incredibly large range of gerberas – for example, the Carbonara variety with pointed, twisted leaves. It's very graceful and unusual. You can't help loving them!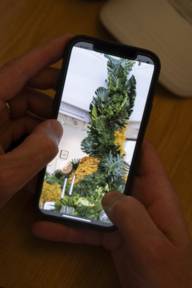 Flowers have a rather short lifespan so they have to be disposed of at some point. Are there any approaches to prolong their use?
Spaete: There certainly are. Dried flowers or dry plant material in general are trending big right now. Of course, they don't last forever because bits can easily crumble off. But if you handle them carefully, you can use them more often. There's a huge selection – the classic dried flowers, but also things like dried delphinium or amaranth cobs. Dried oats are also exciting, for example, and you can also get them dyed.
Flowers and flower shapes folded from paper are even more durable than dried flowers. If you treat them carefully, you can use them dozens of times. We're just starting to experiment with them, so let's see where this takes us. You can maybe combine them nicely with real plants.
So that takes us to the subject of plastic flowers. Do you work with them as well?
Spaete: Theoretically, plastic flowers are infinitely usable and would therefore be unbeatable in sustainability terms.
Khereddine: But it has to be said that we've never seen any really beautiful plastic flowers. Up to now, they've always looked very ungainly and unattractively artificial.
Spaete: That's true. But our motto is that we don't set any limits to our work. So maybe one day, we'll discover some beautiful artificial flowers and then do something with them. We don't want to rule that out.
Juliane Spaete runs the floral design company Forma Laboratory (forma-laboratory.com), with which she works for customers such as Cartier, Nike, and Hermès. Nora Khereddine sells select design objects in her store on Munich's Westermühlstrasse (norakhereddine.com). The two enjoy working together on large floral design commissions, such as for Dior.
7 questions for Nora Khereddine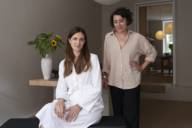 Your first port of call when you haven't been in Munich for a while?
My shop.
The best place for a sundowner?
My balcony. It's small, but glows golden in the evening sun.
The best walk?
Early in the morning through the old cattle yard down to the Isar and then upstream to Grünwald.
Where I'm at home / which neighborhood?
In the Schlachthofviertel.
The taste of Munich?
Like a fresh pretzel from Karnoll's at the Viktualienmarkt.
The smell of Munich?
Like hops.
The most beautiful building in the city?
The Sep-Ruf apartment building on Theresienstrasse.
Beer garden or bar?
A beer garden. I don't drink beer, but I like beer gardens because they're a democratic kind of place where everyone gets together and you eat your taboulé while the person next to you enjoys a knuckle of pork.
Mountains or lakes at weekends?
Lakes. I like to swim, and nothing calms me as much as views of a lake – with the mountains behind.
July 2023
Text: Nansen & Piccard; Photos: Frank Stolle