The few days at congresses, trade fairs or major events in Munich will be over fast. But it's well worth extending your stay, especially if you fancy venturing beyond the city limits. We've listed the seven best places near Munich where there's a lot to experience after a meeting marathon.
Go for a steamboat trip on Lake Ammersee
These five lakes near Munich are a great place to explore, especially in summer. As an incentive with colleagues or after a MICE event, you'll be spoilt for choice: Starnberger See, Ammersee, Wörthsee, Pilsensee and Weßlinger See all have their own specific charm. Our special tip is a steamboat trip on Lake Ammersee with MS Utting sailing across the lake from April to October. And you can round off the trip with a lemon-basil sorbet from the ice cream shop in Stegen.
Seestraße 58, 82211 Herrsching
www.seenschifffahrt.de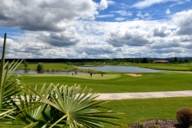 Tee off at Europe's most modern golf course
Golf Valley, a premium golf course, is located between Munich and Tegernsee. And how did this golf course earn its premium seal of approval? Primarily because it was designed by David Krause, a star Canadian golf course architect. Two other highlights: the average size of Golf Valley's greens is 850 m2 and only the best types of grass were used. What's more, this course has successfully balanced the differing needs of professional and amateur golfers with completely different tees and a 21-hectare practice range. Even after 10 p.m. and a long convention day, you can still practice here under floodlights. Another bonus is that Golf Valley integrated nature preservation and species conservation into its land planning so insects and birds can find a new pesticide-free habitat.
Am Golfplatz 1, 83626 Valley
www.golfvalley.de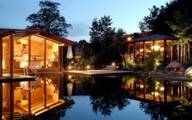 Visit the day spa in Waging am See
Less than 90 minutes from Munich at Lake Waging near Lake Chiemsee, there's a wellness garden with a Finnish sauna, hayloft sauna and Swiss stone pine sauna grouped around a large swimming pond. Unlike conventional sauna landscapes with a pool, you can cool off after a sauna session in a natural pond. The numerous relaxation rooms are a great place to wind down after a strenuous conference week. And even after a wintertime sauna session, you can read your book in comfort on the heated outdoor beds.
Am See 7-9, 83329 Waging am See, Germany
www.wellness-hotel-tennis.de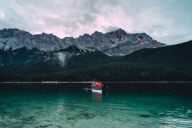 Enjoy a two-hour walk around Lake Eibsee
Some people need a spa weekend after a MICE week; others can best switch off on a hike. At any time in the year, you can go for a walk around Lake Eibsee at the foot of the Zugspitze, Germany's highest mountain. After a hike in summer, the neighboring Lake Frillensee is great for a swim, especially from the beautiful northeast shore. The hiking trail around the Eibsee is 7 km long and can easily be completed in two hours. Depending on the season, a hot or cold drink at the Eibsee pavilion will prove most rewarding.
parking lot at Eibsee: Eibsee Bushalt, 82491 Grainau
www.fahrplan-bus-bahn.de
Eibsee Pavillon, Seeweg 2, 82491 Grainau
www.grainau.de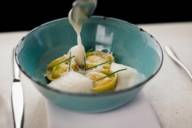 Hiking and feasting at Frasdorf Hut
If you feel like a short, crisp hike, catch the train to Aschau in Chiemgau after your event in Munich. It takes less than two hours to complete this hike, and you'll be rewarded at Frasdorfer Hütte with a wonderfully decorated interior, creative cuisine and matching wine. For groups of eight or more, there's also a special menu based on what the chef recommends. Highest-level delights high above Lake Chiemsee!
Stubn at Frasdorfer Hütte: Am Zellboden, 83112 Frasdorf
www.stubn.co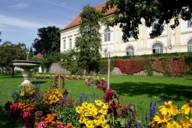 Visit Dachau Castle
If you're still in the mood for royal architecture after a week of conventions and have had your fill of Nymphenburg, you can always visit Dachau Castle north of Munich. Built more than 450 years ago on the site of a High Middle Ages castle belonging to the Counts of Dachau, it's a wonderful place for strolling around the fountains and flowerbeds – and the pastry shop has cakes and pies to finish off a lovely afternoon in the sun.
Schlossstraße 2, 85221 Dachau
www.schlossdachau.com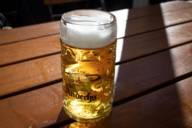 Bavarian delicacies at Andechs Monastery
You can certainly get good beer anywhere in Munich. But after a congress, if you want to try beer brewed at a real monastery , you should visit Andechs. Germany's biggest monastery brewery is located in the Upper Bavarian community of Andechs on Holy Mountain, as it is popularly known. Besides the monastery and the brewery, the beer garden offers traditional Bavarian food with delicacies like pork knuckles and potato salad, which shouldn't be missed on any trip to Munich. And if you're in Munich around Christmas time, you've got to visit the Andechs Christmas market. By the way, Andechs is located above Lake Ammersee, which brings us back to the first item on our list.
Bergstraße 2, 82346 Andechs
www.andechs.de
Photos: Frank Stolle, Golf Valley, Tobias Schnorpfeil, Wellnessgarten Waging, Lukas Freitag, Schloss Dachau