In 2020, numerous events and functions had to be postponed or even completely cancelled due to the global pandemic, including the world-famous Munich Oktoberfest. In previous years, an American finance company had always invited its European customers to a visit to the traditional Oktoberfest. Simply skipping the annual highlight was just not an option. The DMC Conference & Touring (C&T) created a virtual beer tasting and thus was able to create an authentic Oktoberfest feeling throughout Europe.
DMC Conference & Touring (C&T), partner of the Munich Convention Bureau, has been organising special events for over 30 years. An alternative to the annual Oktoberfest visit of their American customer was therefore quickly found: A beer tasting of a very special kind. The virtual event took place in September 2020 and turned out to be a great success with 60 participants from all over Europe.
Not even in this crisis does Munich stand still and has already organised many exciting events in compliance with the hygiene measures, both on site and virtually. The American customer was therefore particularly interested in supporting the local economy in the current situation. Consequently, the organisation and implementation of the event was carried out exclusively in cooperation with Bavarian companies and artists.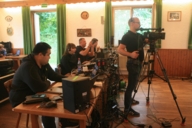 The first task was to find a suitable location for the virtual event. A "Trachtenheim" near Munich was the perfect place with lots of wood and rustic furnishings. An additional antenna was installed on site to guarantee a stable and very good connection and thus smooth and trouble-free operation.
C&T then put together a special Oktoberfest package for the participants. The box contained traditional Oktoberfest Spaten, Löwenbräu and Hofbräu beers for the tasting, but also the official Oktoberfest beer mug, a matching bottle opener and a branded gingerbread heart. The boxes were dispatched to the 60 participants throughout Europe three weeks prior to the event.
In addition, the agency hired the Happy Bavarians, a well-known Bavarian band for the perfect Oktoberfest atmosphere, and Amadeus Danesitz, an authentic beer sommelier.
At the end of September, the time had come: The beer tasting was the crowning glory after the virtual customer meeting. The band Happy Bavarians kicked things off and provided the famous Wiesn-Gaudi (fun atmosphere).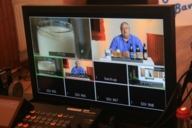 Beer sommelier Amadeus Danesitz guided through the different beers and answered all sorts of questions about hops and the Oktoberfest. Each tasting was followed by a traditional "Prosit" and a song by the Happy Bavarians.
The result: A happy customer, an all-round successful event with a Europe-wide Oktoberfest feeling and already now the hope of coming back to Munich next year and experiencing the Oktoberfest live and for real.
November 2020
Photos: DMC Conference & Touring