Every now and then you crave more – more entertainment, more variety, more volume. In these Munich bars, live acts offer a wide range of musical entertainment.
Jazz, indie, rock and pop, jam sessions and open mics await you at these unusual venues in Munich. If you want to dance spontaneously to live music or simply enjoy good entertainment with a delectable drink at the bar, keep an eye on the event calendars of these locations – because the small gigs also shine brightly in the jungle of the big concert halls.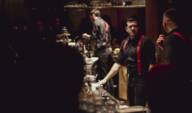 Kongressbar: 50s ambience meets jam sessions
The round bar counter covered in red upholstery is the eye-catcher of the congress bar, which is entirely furnished in 50s style. With its cosy and aesthetic elements, the venue not only invites you to start the evening here, but also to linger until the last guitar riff. Besides its great drinks, the Kongressbar is also known for its jam sessions of different musicians and changing live acts.
Music style: blues, jazz, rock, Brit-pop or disco-funk – the acts here are as diverse as the musical tastes.
Dates: several times a month, see event calendar
Atmosphere: the louder the band, the louder the audience. Dancing, partying or just chatting at the table – the choice is yours.
Special features: the tarte flambée
Also interesting: Kooks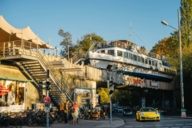 Alte Utting: Dancing into the sunset on a ship
The Alte Utting as a location is as unusual as the live programme is varied, on several days of the week: One evening a jazz combo pulls the crowds, the next a singer-songwriter entertains, or a swing band with brass instruments gets your feet moving. On the disused steamship, parked on a former railway bridge in the Schlachthofviertel (district), you can watch the sunset or have a cosy chat in the stern and bow saloon. Cultural events are frequently held in the remodelled engine room. Does that sound crazy? Well, it is!
Music style: everything!
Dates: several times a week, see the event calendar
Atmosphere: cosy and boisterous, guests of all ages and international
Special features: sunset from the captain's deck
Also interesting: Gans am Wasser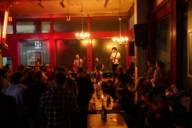 Lost Weekend: One of everything – and vegan, please!
There is a constant in and out of professional musicians and amateurs here: On the regular open-stage nights, the floor is open to anyone who wants to share their music. On Latin nights you can sway your hips to South American rhythms, on other evenings, DJs spin. Lost Weekend is located opposite Ludwig-Maximilians-Universität and is an institution in Maxvorstadt (district) – especially for (international) students who use the café to study during the day and in the evening to toast with aperitif variations.
Music style: constantly changing, there are also comedy nights and pub quiz evenings
Dates: several times a week, see event calendar
Atmosphere: the audience is young and international
Special features: food and drinks are completely vegan
Also interesting: Minna Thiel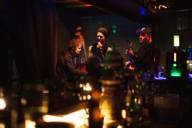 Mister B.'s: Live-"boazn", formerly known as Jazz-Stüberl
This special place, once nicknamed "Munich's smallest jazz bar", was founded by a New York local, Alex Best, who himself stood behind the bar counter for years. During the pandemic, the bar unfortunately had to close, but was reopened in January 2023. Behind the new concept are the operators of the "Xaver's", a modern bavarian tavern at Gärtnerplatzviertel (district). Bands perform from Thursday to Saturday, sometimes a jazz combo, sometimes a singer-songwriter. The atmosphere is always cosy, because there is no real stage – the musicians perform in the shop window, so to speak.
Music style: changing, focus on smaller combos
Dates: Friday and Saturday
Atmosphere: relaxed! It can be loud, but also sometimes very quiet, depending on the musical genre
Special features: the approx. 3 sqm "stage" in the window
Also interesting: Substanz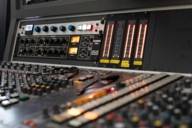 Import Export: Sound check with the whole world
Anyone who spends an evening at Import Export will notice that solidarity is not only written in capital letters on the homepage, but is also lived on site. With its selection of artists, the multi-funded live venue offers a place where art and music can be experienced across genres and styles – and don't be surprised if a large part of the audience speaks English. Import Export is located in the exciting Kreativquartier district, which not only houses studios and offices, but also hosts regular events.
Music style: as long as it's unique! You will find everything from percussion artists to psychedelic sounds and unusual DJ sets.
Dates: almost daily, it's worth taking a look at the extensive event calendar
Atmosphere: warm, open vibe that attracts an international crowd
Special features: the focus is on transnational cooperation
Also interesting: Gans Woanders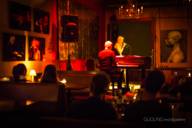 Jazz bar Vogler: An institution of good taste
The Vogler has been a venue for jazz, soul and Latin music since 1997. With its solo evenings and performances by big bands, the bar in the Gärtnerplatz district is a very popular meeting place for fans of refined live music. With its dim lighting, it is reminiscent of New York basement clubs, where you can either sit in cosy seating areas or directly at the bar. By the way, the owner Thomas Vogler himself usually tends the bar and mixes the drinks until late in the evening. There are only few places with a long standing and excellent reputation – but Jazzbar Vogler is definitely one of them.
Music style: Jazz, Latin and Soul
Dates: several times a week, see Instagram and newsletter (can be subscribed to on the website)
Atmosphere: generally relaxed, volume depends on the respective live act
Special features: the whole range of international stars on the music scene
Also interesting: Jazzclub Unterfahrt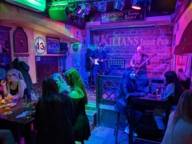 Kilian's: Irish exuberance in the heart of the city
The list would be incomplete without an Irish pub like Kilian's, which has enriched the Munich music scene for over twenty years. Musicians perform here five times a week: From Thursday to Saturday, larger bands provide a great atmosphere, and on Mondays and Wednesdays, there are concerts ranging from Irish folk to rock. And for those who prefer to sing themselves: Karaoke evenings are also part of the programme.
Music style: Irish folk, but also pop, rock or RnB
Dates: several times a week, see event calendar
Atmosphere: loud and laid-back
Special features: host Paul is a musician and occasionally performs on the stage himself
Also interesting: Kennedy's
Photos: Frank Stolle, Kongress Bar, Lost Weekend, Mister B's, Guoling Photography, Kilian's