The Forest Certificate is coming - and with it the easy way to compensate for the emissions generated by a trip to Munich.
From summer 2023, our guests will have the opportunity to make a growing contribution to climate and environmental protection and to the quality of life in Munich: at a unit price of 80 euros, the municipal forestry operations will offer so-called "Forest Certificate". The money will directly go towards the reforestation of the city's green and wooded areas.
The price seems quite high at first glance, but it was determined in a scientifically comprehensible calculation. With only 80 euros, a 200 square metre piece of forest can be planted and maintained. With this area of forest, about two hundred kilogrammes of CO2 can be stored within one year. This corresponds to the average emission per Munich trip and guest.
Those who purchase a forest certificate can therefore leave with the good feeling that their personal CO2 balance for Munich will already be balanced by next year. For the coming years, they have already made a sustainably growing contribution to climate protection in our city. The proceeds will go to the city's municipal administration without any deductions, and everyone who wants to enjoy life in Munich will benefit from the climate protection effect. Thank you very much!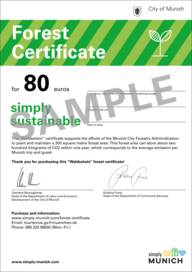 The way to your Forest Certificate
In the first step you transfer the 80 Euro to the account details below with the purpose of use: 91754151830025 Münchner Waldschein
Once the money has been received, the Waldschein will be sent to you by e-mail (print@home). For this purpose, please send us your e-mail address via tourismus.gs@muenchen.de.
Enjoy your Munich trip!
Bank account details
Account holder: Landeshauptstadt München
HypoVereinsbank München
IBAN: DE34700202700000081300
BIC: HYVEDEMMXXX
Purpose of use: 91754151830025 Münchner Waldschein
Text: München Tourismus; Photo: Frank Stolle