In truth, Pumuckl is not actually a Munich native. As a descendant of the Klabautermänner (ship's goblins), he ought to be wreaking his mischief on sailing ships in the far north.
But Pumuckl ends up in the middle of Munich, in Master Eder's workshop, where he turns the master carpenter's tranquil life upside down.
The goblin character's creator, Ellis Kaut, captured the very essence of Munich life as she described the goblin's escapades – though it isn't the feeling you might associate with Maximilianstrasse or other similarly exclusive parts of the city. Instead, Pumuckl and his Master Eder frequent the former suburbs of Lehel and Haidhausen, districts which were still chiefly inhabited by labourers and ordinary working people right into the 1980s. The rear courtyards and quaint little "Herbergshäuschen" – former boarding houses – provided the ideal backdrop for the television series.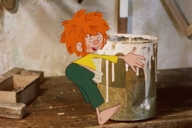 That's where we see the goblin defending his Leberkäse sausage loaf from a cat, and where Master Eder heads to the stammtisch (regulars' table) to play cards and dine on suckling pig with the other tavern regulars. It's clear that Pumuckl has a lot in common with the locals of Munich though, especially when it comes to food. He has rather an epicurean lifestyle, and Master Eder even allows him a good swig of beer with his snack from time to time.
It is unfortunately no longer possible to visit Eder's workshop in the rear courtyard at No. 2 Widenmayerstrasse, as it was torn down in 1985.
However, the former "Zum Huterer" inn, the carpenter's favourite, is nearby in Wiener Platz, on the right-hand side of the Isar river. And you can quite literally follow in Pumuckl's footsteps just around the corner, recalling the "Der große Krach" ("The big fight") episode in which Pumuckl trudges sadly through Haidhausen's Preysingstrasse after being thrown out by Master Eder.
Of course, there have been a few changes in Lehel and in Haidhausen since the programme was made, but Pumuckl's stomping ground still captivates with an authentic charm of its own.
Text: München Tourismus; Photo: Bayerischer Rundfunk