With its magnificent altar fresco and one of the most melodic organs in southern Germany, Ludwigskirche is one of Munich's most important churches.
King Ludwig I of Bavaria wanted his magnificent boulevard to also include a sacred building as a monument to himself, and so his architect Friedrich von Gärtner was commissioned to build the Catholic Parish and University Church of St. Ludwig (Pfarr- und Universitätskirche St. Ludwig) – commonly known as Ludwigskirche. The king felt such a strong identification with Ludwigskirche that he even named the six church bells after himself, his wife Therese and their four children Maximilian, Otto, Luitpold and Adalbert.
Construction was repeatedly interrupted by wars, political unrest and epidemics, meaning the process spanned 15 years; the church on Ludwigstrasse was finally inaugurated in 1844. The church was built in the style of classicism. This comes from the king's fondness for Italian architecture – which is clearly apparent in buildings all along Ludwigstrasse.
One strikingly unique feature of the three-nave building is its altar fresco which measures over 200 square metres. Named "The Last Judgment", the work was completed between 1836 and 1840 by artist Peter von Cornelius, who was head of the Akademie der Bildenden Künste (Academy of Fine Arts) in Munich at the time. It is the second-largest altar fresco in the world after Michaelangelo's Last Judgment in the Sistine Chapel in Rome.
However, Ludwig I was not pleased with the finished work, which caused conflict between the king and the artist and resulted in Cornelius leaving Munich and moving to Berlin.
The church has another very special artwork associated with it, although it can only be seen from above: the elaborate mosaic-like roof. After intensively studying the techniques associated with the glazing of roof tiles, Friedrich von Gärtner decided to roof the building with sheet iron, contrary to the original plans. He then had the entire roof covered with tiles, creating the appearance of a colourful woven rug.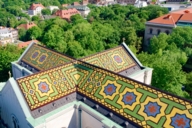 Ludwigskirche is also known for the wonderful sound of its organ, installed in the 1960s. The instrument has 54 stops which are distributed across four manuals, and a fully mechanical action. The church regularly hosts concerts at which attendees can savour the sound of the organ for themselves, while also marvelling at the beauty of the building.
Other articles that may interest you: Ludwigskirche forms the central point of Ludwigstrasse between Siegestor (gate) and the Feldherrnhalle (Field Marshals' Hall). Numerous other attractions can also be reached on foot from the building: Ludwig-Maximilians University, the Bayerische Staatsbibliothek (Bavarian State Library), the Theatinerkirche (church), the Hofgarten (Court Garden), the Munich Residence (city palace) and many more.
Text: München Tourismus; Photos: Frank Stolle, Redline Enterprises