München Tourismus assists with preparing for and conducting research visits.
For preparing your press trip
München Tourismus will be pleased to support you in organizing individual press visits to Munich. It is our pleasure to provide optimal service we therefore request that you comply with the following criteria:
Press trips on behalf of media should editorially refer to Munich as a tourist destination and should be part of the travel feature.
You are requested to provide us with a written commission (by letter or email) from the editor of your medium and to supply us with specific information about date of publication and the following media data:

Print media → circulation, number of readers, target group(s), equivalent advertising value...
Online media → unique visits, page impressions, equivalent advertising value, etc.
Blogs → Media kit with number of followers/readers/likes of the blog and the related social media platforms (Facebook, Twitter, Instagram, etc.)
As an alternative to a written commission, freelance journalists and bloggers can submit current specimen copies of reports or posts.

The minimum period of time between enquiry and support should be not less than four weeks.
Please understand that München Tourismus cannot assume any costs for travel or transfers from and to the airport, the hotel or any other destinations. For travel within the city, München Tourismus provides tickets for local public transport.
Basically, no film and photo permits are required within the city of Munich for touristic purposes. Further information on the subject can be found below.
During your stay at least one meeting with the respective München Tourismus contact as well as with sponsors (hotels, restaurants, etc.) will be arranged.
Your München Tourismus contact will be pleased to answer any queries within the framework of follow up support. After publication and/or television or radio broadcast you are requested to supply us with specimen copies in print or digital form and/or videos and recordings in digital form.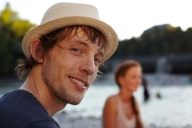 München Tourismus cooperates with national and international influencers!
We - München Tourismus - believe it is of great importance that we match and brandfit well. Our focus is on participation, on culture of enjoyment and enjoyment of culture, on Munich's hospitality and zest for life: simply on quality tourism.
Munich is a real jewel – visited by millions of tourists from all over the world and influencers report regularly. Original stories, special photos and videos feed into reporting on social media. Get an impression on what is going on currently: simply-munich.com/bloggers
We are delighted about your request and interest in working with us. Here is all you need for your application.
Frequently Asked Questions
In case you have not conducted any previous research work about Munich and/or are looking for ideas, following is a list of frequently asked questions:
Does München Tourismus assume any travel costs to and from Munich for media representatives?
No, München Tourismus does not assume any travel costs.
Does München Tourismus assume any accommodation costs within the framework of on-site press support?
Yes, München Tourismus participates in the accommodation costs subsequent to prior agreement.
Does München Tourismus assume the costs for meals within the framework of on-site press support?
Yes, München Tourismus participates in the costs for meals subsequent to prior agreement.
Does München Tourismus take over the costs for local public transport within the framework of on-site press support?
Yes, München Tourismus assumes the costs for local public transport.
What are the most important sights in Munich?
Sights in Munich
Where do i find press contacts for sights in Munich?
Press contacts for sights
Where do I find news and Destination Information?
News and Destination Information of München Tourismus
Where do I find statistical data about occupancy rates and tourism development (overnights, arrivals)?
Statistics and News
Which events are taking place in Munich?
Events in Munich
Where do I find suggestions for stays of 24 and/or 48 hours?
Suggestions for your stay in Munich
Where do I get film and photo permits for touristic reporting?
Further information on the subject can be found below.
Who can I address about research outside of Munich?
Bayern Tourismus Marketing GmbH → www.bayern.by
Tourismus Oberbayern München e.V. → www.oberbayern.de
Filming and photography consent for tourism reports
No consent is required for filming and photography in public areas. This does not include shots taken using bulky equipment or equipment which will cause an obstruction.
Further information can be found on the website of the City of Munich Media Service.
Drone filming and photography consent
Drone flights over the entire city area are generally subject to the rules and regulations of the Federal Ministry for Traffic and Digital Infrastructure.
Applications should be submitted initially to the South Bavaria Air Traffic Authority (Luftamt Südbayern). The Luftamt Südbayern is primarily responsible for general drone flight availability: luftamt@reg-ob.bayern.de.
If you want to take drone images in public areas, please contact the filming department of the Regional Administrative Office (Kreisverwaltungsrefereat) to request consent to film using a drone. Consent may be subject to a fee: filmservice.kvr@muenchen.de.
Alternatively, requests may also be submitted to private owners of buildings and land.
Finally, you must contact the Munich police department which will check the approvals granted to you to film in public areas and any consent conferred by private owners: pp-mue.muenchen.praesidium@polizei.bayern.de.
Once you have finished filming your videos, we would be delighted to see a copy along with details of where your recordings will be published.
Please get in touch with our Media Relations team.