It's a piece of Munich's history and continues to cast a spell over visitors to this day. Lenin, Brecht and the young Franz Josef Strauss were regulars at the Schelling-Salon. And even if you're not interested in its rich history, you can still come to play.
"Schafkopf" is a traditional Bavarian card game. Anyone self-respecting local knows how to play and understands what the "Oidn", "Blauen" and "Spatzen" are all about. This makes it all the more surprising that you can't play Schafkopf at many pubs in Munich. Perhaps a lack of sales are feared by the pub owners, who'd rather see fewer cards and more food and drink on their tables.
But things are different at the Schelling-Salon in the Maxvorstadt district. Here you can play Schafkopf to your heart's content – for a little fee, but still! And that's not all. Guests come in their droves to sit together and enjoy even more activities. Many come to play billiards and even table tennis. Or how about a game of table football?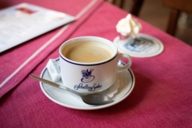 The Schelling-Salon is not your ordinary pub; it forms part of Munich's identity like no other. It's been around since 1872. It's now being run by the fourth generation of the Mehr family. As soon as you walk through the door of the colourfully decorated corner turret on Schellingstrasse 54, you instantly feel what the pub has gone through over the past century. The walls are full of all kinds of paraphernalia. Pictures, mugs and documents create a special flair.
The Schelling-Hof, as it was first called, was always very popular, although it was mainly visited by mourners at first. After all, the northern cemetery is located on Arcisstrasse. Almost every funeral in the area started or ended at the Schelling-Hof. In 1877, the city decided to extend its new network of horse-drawn trams from Stachus to Maxvorstadt in the north. This was good for the pub on Schellingstrasse, because the final stop on the new line was just next door.
The Schelling-Hof then became the Schelling-Salon in 1911, and the Mehr family decorated the pub in the style of a Viennese coffee house to the delight of the locals. The Schelling-Salon became a meeting place for the intellectual elite: It was visited by Wassily Kandinsky, Bertolt Brecht, Lenin and Theodor Heuss, who went on to become the President of Germany. Adolf Hitler was apparently barred from the establishment after refusing to pay the bill. Franz Josef Strauss grew up in Maxvorstadt and even came here as a boy to fetch beer for his father.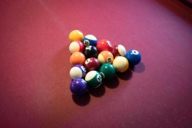 The list of celebrities is long but, more importantly, the Schelling-Salon has always managed to attract a diverse range of guests. Actors sit alongside Bavarians in their traditional dress, students enjoy a beer and roast pork with their professors, and street sweepers ponder the world.
Photos: Frank Stolle